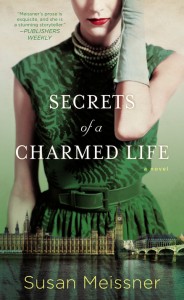 Today Secrets of a Charmed Life hits bookstore shelves! This WW2 story began first as just an image in my head of a teenage girl sketching wedding dresses in the tiny bedroom she shares with a younger half-sister. I could see Emmy in my mind's eye imagining a life far different from the one she is living. She wants a happily-ever-after life where love and comfort are in abundance, and for her, that charmed existence begins with a wedding dress worn on that day a girl's childhood dreams come true. I decided to set Emmy in London at the start of the war because I knew that even for a young woman not yet sixteen, war is a crucible. It is a tester of dreams and desires and determination. I knew the London Blitz was an opposition that would bring out the very best and the very worst in this girl, as war so often does.
Like many of my other novels, Secrets of a Charmed Life is historical fiction framed by a contemporary layer linked to the past. An American college student studying abroad at Oxford interviews Blitz survivor Isabel McFarland just when the elderly woman is ready to give up secrets she has kept all her life – beginning with who she really is. The story then takes the reader to England in 1940, where an unprecedented war against London's civilian population is about to take place and half a million children are evacuated to foster homes in the countryside. Fifteen-year-old Emmy Downtree and her much younger sister Julia find refuge in a charming Cotswold cottage, but Emmy's burning ambition to return to the city and apprentice with a fashion designer pits her against Julia's profound need for her sister's presence. The sisters' lives are forever changed when—acting at cross purposes—they secretly return to London on the first day of the Blitz.
As always, if you decide to read this book, and I so very much hope you do, I'd love to hear what you thought of it. Your reviews on Amazon, Goodreads, and Barnes and Noble are appreciated more than you know. Readers trust other readers, and your honest reaction to any book of mine is the best kind of word of mouth. If you haven't already ordered a copy of Secrets of A Charmed Life, today would be a great day to do that!
As Iwrite this, Secrets of A Charmed Life is #44 on Goodreads' Top 200 most anticipated February releases, and #20 on Amazon's hot new digital releases for February! What a wonderful way to release a new book into the wild.
There are a number of drawings for this book on the web right now. Here's one of them.  There's an interview there where I shared some of what I told you above, plus lots more.
Thanks so much for being a part of my life. You are the reason I write.