To mark the release of A FALL OF MARIGOLDS, I am happy to welcome writer friends to the blog to share with you a story about a family heirloom that is precious to them. An heirloom scarf is what ties two women together in A FALL OF MARIGOLDS, and heirlooms are what tie these blog posts together. At the end of the week, there will be a fun giveaway. Enjoy!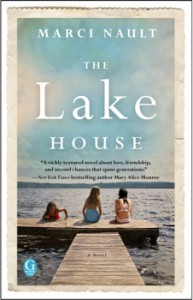 Today I am happy to welcome novelist Marci Nault, author of THE LAKE HOUSE,  to the blog. Marci Nault hails from a town not too far from Lake Nagog in Massachusetts. Today she can be found figure skating, salsa dancing, hiking and wine tasting around her home in California. Marci is the founder of 101 Dreams Come True, a motivational website that encourages visitors to follow their improbable dreams. Her story about attempting to complete 101 of her biggest dreams has been featured in newspapers and magazines nationwide, and she regularly speaks on the subject on radio stations in both the United States and Canada. Marci says THE LAKE HOUSE began as a comedy, "but as the characters revealed their stories the book became about the desperate need for second chances and finding home in the most unlikely place. It's about friendship and falling in love even when you think the opportunity has passed." Read to the end to see how you might win a signed copy.
"…found the deepest beauty and clicked the shutter…"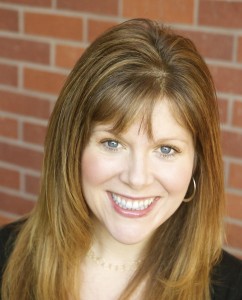 There's a simple house in Leominster, MA, built by my grandfather. He lovingly placed joists, support beams, and stucco to create a strong foundation and secure walls.  Inside he crafted the cabinets in the small three-bedroom house where he and my grandmother raised their four children.
As a little girl, Sunday afternoons were spent in this house playing with my brother and eight cousins. We'd run up and down the hall sliding in our socks on the shiny-waxed surface. We played wiffle-ball in the backyard and could be entertained for hours on the glider swing that turned into imaginary modes of transportation.
Days when the Patriots played, the men overtook the living room and no matter how many times our mothers called out it was time to go, the men would respond, "There's only five minutes left in the quarter." Five minutes seemed like hours of pure playful luxury to us kids.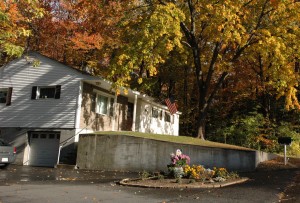 We marked the New England seasons in this home: summers running through sprinklers; fall jumping in raked leaf piles; winter making snow angels; and spring licking our lips in anticipation of homemade maple syrup as my grandfather hung the buckets from spouts on the Maple trees.
By the time the flowers bloomed in the yard, my grandfather would retreat to his rusted shack to pour the sap onto the hot, table-like burner. Due to the wood fire and the sizzling, popping sap we were told to stay away. I'd always creak open the door, my long blonde hair, which hung to my knees, held tightly in my fist behind my neck.
My grandfather seemed to glow in the last of the sunlight that came through the windows. He'd motion me to his side, take a string and tie my hair back. His hands smelled sweet with the tinge of syrup combined with the scent of tobacco. I'd sit with him, not talking, but somehow listening to his thoughts about birds, the woods, and past memories. To many he was a bear of a man, stubborn in nature with a loud accusing voice, but his granddaughters were his sweethearts – Pepere's little girls. The definition of safety was being by his side or in the house he'd built.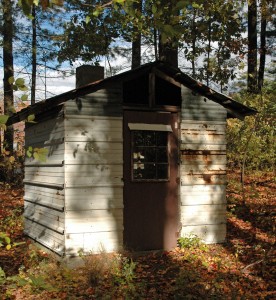 My grandmother was the photographer and seamstress – creating beautiful creations with both her arts. She worked mostly in slide film, enjoying how she could shut off the lights in the kitchen and project her memories on a big screen for all of us to see. There was something comforting about those yellow boxes of slides – the story of my life and family kept safe and important.
A few months ago, my grandmother suffered a massive stroke that landed her in a nursing home. Five years before my grandfather had passed after surgery for a broken hip. Soon the house of my childhood will sell; the sugar shack replaced probably with a new home built on the land. I want to keep this home with everything I have, and I wonder if a house has ever been considered an heirloom.
As my mother was going through the lifetime of their belongings I found my grandmother's camera equipment.  As I held the metal Canon in my hand, I felt as if it carried a presence of my grandmother's life. Every time she saw something she loved she brought this camera to her eye, found the deepest beauty and clicked the shutter.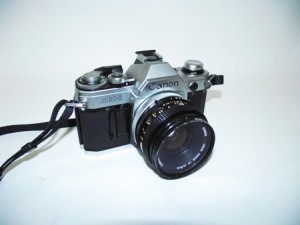 Tears came to my eyes as I held the lenses that were used in my first photography lessons. I put the camera away, knowing it would go to my aunt, but I asked one thing – if she'd pass it onto me in her will.
A few weeks later my mother handed me a note. The camera was mine because my aunt understood what it meant to me. It's film, not digital. The lenses are ancient in today's world, but for me this camera holds every memory of that sweet childhood. I can't carry a house with me. I'll have to let it go. But every time I look through the lens a part of their lives will be with me. This camera is a physical reminder of all they brought to my life and how they helped me to see the world through the lens of love.
You can reach Marci on her Facebook page, her main website or her 101 Dreams website or on Twitter at @101dreamslist.
Thanks so much for being here, Marci, and sharing such a tender story about your grandparents' house. My paternal grandparents' house has the same effect on me. Readers, you can be in on the drawing for Marci's lovely book, THE LAKE HOUSE, just by commenting below. Post your hello by Friday, March 7 at noon Pacific. You can just say hi or tell us about your grandparents' house and what memories thinking of it conjures…