Last year when I read ORDINARY GRACE by William Kent Krueger, a book club pick by a good friend, I knew I had stumbled upon an author whose writing would perpetually resonate with me; just as Kate Morton does, and Geraldine Brooks and Diane Setterfield, and Khaled Hosseini. WKK's storytelling skills are mad with talent, his prose delicious and evocative and his characters unforgettable. So when THIS TENDER LAND came out this year, I knew I would be snapping it up.
It's funny, though that I waited to read it until just recently. I guess it's because I knew I was going to relish and cherish it, so it was as if I was saving it, something I don't usually do with a book I've been waiting for.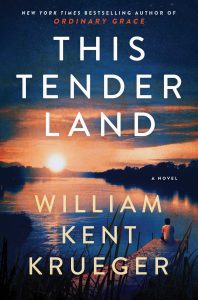 This newest by him does not disappoint. It's surprising to me that I so easily fell into this book when it's narrated by an adolescent boy; so very different from the adult female voiced novels that I usually read.
I suppose it's because the story is about children who are having to make adult choices that they should not have to make. Stories of children in harm's way always seem to grab at me; it's why I think I loved ORPHAN TRAIN by Christina Baker Kline so much, and THE GOLDFINCH and SARAH'S KEY and DEAR EDWARD. In our hearts we know children should get to be children when they are children – if you know what I mean – and when they are put into situations that could so easily break their spirit we ache to see that somehow they will find a way to survive and thrive. We want to believe that despite the worst that a messed-up adult world can foist onto a child, he or she will find a way to rise above it.
In a nutshell THIS TENDER LAND is about three young people on a journey to safety and the odds are against them. It's during the Great Depression, they don't have the security of a normal home to shelter them and they face hurdles that would stymie the strongest of adults. But William Kent Krueger escorts the reader on a beautiful ride nonetheless. Every chapter is golden. The ending is exquisite.
The construction, which you can miss if you're not looking for it, is reminiscent of Ulysses on his epic Odyssey – so clever and so masterfully done.
The Denver Post says this book is "rich with graceful writing and endearing characters…a book for the ages." I would agree.
I've started to shed books from my house that I've already read, to trim the bulging shelves, live a simpler life, and give books I loved but won't read again (because THERE ARE SO MANY BOOKS) another shot at pleasing another reader. But some I am keeping. Some I will read again.
This is one of them.