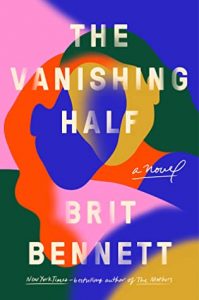 Often when I begin to read the book that everyone is talking about I find myself dealing with expectations that are just too high.  The annoying result of having expectations that are too lofty is failing to enjoy the book as much as I probably would have if I had heard nothing about it. It's happened more than once, sadly. Maybe this has happened to you, too?
That is not the case with THE VANISHING HALF by Brit Bennett. I finished it last night when the house was asleep (anyone else dealing with pandemic insomnia?!) and hated to see it end. The characters are that richly drawn and the writing is that good.
The premise alone is at once intriguing. Just now as I tried to think of words to describe it, the right words failed me, so I am cheating here and giving you the publisher's excellent description.
The Vignes twin sisters will always be identical. But after growing up together in a small, southern black community and running away at age sixteen, it's not just the shape of their daily lives that is different as adults, it's everything: their families, their communities, their racial identities. Many years later, one sister lives with her black daughter in the same southern town she once tried to escape. The other secretly passes for white, and her white husband knows nothing of her past. Still, even separated by so many miles and just as many lies, the fates of the twins remain intertwined. What will happen to the next generation, when their own daughters' storylines intersect?

Weaving together multiple strands and generations of this family, from the Deep South to California, from the 1950s to the 1990s, Brit Bennett produces a story that is at once a riveting, emotional family story and a brilliant exploration of the American history of passing. Looking well beyond issues of race, The Vanishing Half considers the lasting influence of the past as it shapes a person's decisions, desires, and expectations, and explores some of the multiple reasons and realms in which people sometimes feel pulled to live as something other than their origins.

As with her New York Times-bestselling debut The Mothers, Brit Bennett offers an engrossing page-turner about family and relationships that is immersive and provocative, compassionate and wise.
I was spellbound by Ms. Bennett's quiet and yet compelling storytelling. Hers is the kind of writing I want every novel I read to sound like. Every novel I write to sound like. It's beautiful without being pretentious or melodramatic or stilted. And her pacing and timing is perfect.
One bookseller said this about it: "A page-turner—yes. Lyrical—yes. A sharp depiction of the brutal effects of racism and colorism on families and communities, an exploration of what it means to choose—or refuse—an identity, and a delicate, nuanced, fierce prose that probes at the bond between twins and the cascade of events that pour through their separate lives after one twin vanishes from the other—yes, yes, and yes. Bennett's writing is clear and swift, and I could live in it forever."
I couldn't have said it better. If you're on Facebook and want to hear Brit Bennett in conversation with some very good author friends of mine, hop on to the Friends and Fiction group page and get connected there so that you watch the Nov 4 Wednesday night show with Ms. Bennett as the special guest. And as an aside, Friends and Fiction is a great place to hang out every Wednesday night, actually. I've enjoyed all the interviews. (If you want to hear one of my favorites, check out the one with Elizabeth Berg!)
I would love to hear your thoughts on the book if you've read it! Have a lovely weekend, friends…