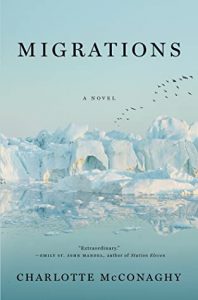 I was swept away by the utterly beautiful writing within the pages of MIGRATIONS by Charlotte McConaghy. Even though at its heart this is a book about a tragic woman's consuming sorrow and relentless regrets, it was nonetheless a gorgeous and compelling read that I couldn't wait to get to at the end of the day. And remarkably enough, it has wholly satisfying ending.
The book is about a woman desperate to track the migration of the last known Arctic terns. She is in our world, but a dystopic version of it where all of the animal species are becoming extinct. Frannie enlists the crew of a fishing vessel to aid her on her quest, a crew that is already at odds with a society that does not want them yanking from the sea the last of the fish. But she needs this captain and its crew to take her from one pole of the earth to the other as she follows the migration of these resilient birds.
From the get-go it is easy to see that the book is really not about the migration of these birds but rather the migrations a person makes within his or her life as they travel through it, from one end to the other. It might take a little bit of a mental leap to believe that our collective mishandling of the earth has caused the animal species to become extinct, but for me the book was not first and foremost a treatise on environmentalism. It really was, again for me, a book about a singular woman whose heart aches to get back what she lost, get back what she tossed away, get back what was taken from her. A broken planet provided the backdrop for this story to be told. Readers can take away from the setting what they are willing to, as we always do. It was the writing that kept me spellbound, not the rhetoric. Here are just a few gems from within the pages.
"There are two worlds. One is made of water and earth, of rock and minerals. It has a core, a mantle and a crust, and oxygen for breathing. The other is made of fear."
And
"I lie in the sea and feel more lost than ever, because I'm not meant to be homesick, I'm not meant to long for the things I have always been so desperate to leave. It isn't fair to be the kind of creature who is able to love but unable to stay."
The author is based out of Sydney, Australia, and this book is her US debut. Prior to MIGRATIONS, McConaghy wrote young adult science fiction. I read in an article in the LA Times about MIGRATIONS that McConaghy knew "the novel's harsh reality needed to be tempered with luminous prose and a muscular grip on plot that keeps the frigid pages flying. And, perhaps most important, there is hope. Hope is the ultimate balm – and catalyst."
I would heartily agree with this assessment, that it's hope that keeps you turning pages, hope that satisfies you at the end of them.
It's a five-star read for me. Highly recommend.