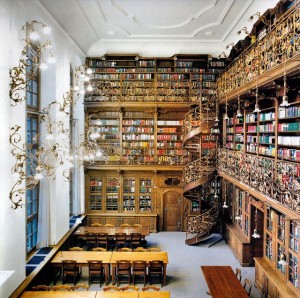 Is this not the most awesome library ever? Even the ceiling is pretty. And look at that tendril of a staircase, as lovely as a curling lock of hair. I just want to import the whole room into my house. (A pox on anyone who dares to say, "But where would you put it? Details, schmetails).
I have to say, though, that there is one thing about this library that makes me shake my head in frustration. In lament. In grumpyness.
It's a law library.
Not that there's anything wrong with books on law. They are helpful, exhausting tomes.
It just seems like there is a lot of Wow here lavished on books that aren't novels.
This law library is in Munich if you care to know. Book Riot says it is located at "Neues Rathaus (New Town Hall), a soaring, neo-Gothic confection built at the close of the nineteenth century." That might be the most yummy word ever to describe a beautiful room filled with books: a confection. Where's my napkin? I am drooling.
I want to go here someday, sneak in a heady mug of Tchibo,  sit in one of those wooden chairs, soak in all the wonder and crack open the pages of a MY kind of book.
Care to join me?