To mark the release of A FALL OF MARIGOLDS this month, I am happy to welcome writer friends to the blog to share with you a story about a family heirloom that is precious to them. An heirloom scarf is what ties two women together in A FALL OF MARIGOLDS, and heirlooms are what tie these blog posts together. At the end of the month, there will be a fun giveaway. Enjoy!
The amazingly gifted Lisa Wingate is my guest on the blog today. Selected among BOOKLIST'S Top 10 of 2012 and Top 10 of 2013, Lisa skillfully weaves lyrical writing and unforgettable Southern settings with elements of women's fiction, history, and mystery to create stories that Publisher's Weekly calls "Masterful" and ForeWord Magazine refers to as "Filled with lyrical prose, hope, and healing." Lisa is a journalist, an inspirational speaker, a reviewer for the New York Journal of Books, and the author of over over twenty novels and countless magazine pieces.
Her books have held positions on bestseller lists, both in the U.S. and internationally. She is a seven-time ACFW Carol award nominee, a Christy Award nominee, an Oklahoma Book Award finalist, a Christianity Today Book Award nominee, an Inspy Award nominee, and a two-time Carol Award winner. Read to the end of this post to see how to be in on the drawing for Lisa's newest book!
"Among scraps of the past"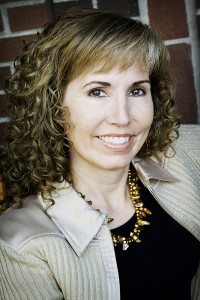 Where do I write?
Among scraps of the past.
I think all writers do.  As a writer, you eventually find that the people you create, the places you thought were plucked from the ether are not so misty and ethereal, after all.  They're really just a patchwork of people you've known and places you've been.  They're sewn together with a fine, glistening thread of imagination, stitched and fitted and nipped, turned this way and that, their textures and colors creating a quilt of story.
I have a strange fetish for old things – especially antique organizational furniture.  If I buy one more thing-with-tiny-drawers-in-it, my family will probably have me committed.  I love card catalogs from library sales, my big roll top desk, oak file cabinets with heavy old drawers that are hard to open.  The new ones with stainless steel sliders would work so much better, but they wouldn't have history.  They'd lack the character of the graceful old forms cabinet that sits at the end of my row of bookshelves.  The forms cabinet is a family heirloom of sorts.  I found it covered in depression-era green paint and a patina of grease, in a warehouse belonging to my husband's granddaddy.  The cabinet was filled with tools, nuts, and bolts.  I knew I had to save it.  It had so many drawers!
I could never have imagined how beautiful the cabinet would be, refinished and sharing space with the massive oak bookshelves of my childhood.  The forms cabinet has thirty-six drawers in all (there are eighty-one little drawers in my office, but who's counting).  I don't know how the cabinet came to be in Grandaddy's warehouse and neither does he, but it's a great place to keep manuscripts and paperwork.  I wonder at its story.  Clues h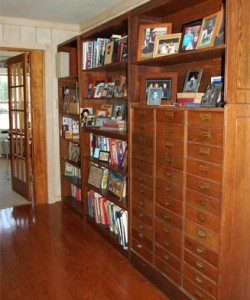 ide inside the drawers in the form of log sheets, affixed on the drawer bottoms at the time of manufacture.  Someone with lovely handwriting used a fountain pen to make notations in the drawers from 1900 to 1925, off and on.  I don't know what the notations, like the one in this photo, mean.  I wonder about them sometimes.
Who was A.L. Sweet?  What did he do in 1907 that caused his name to end up in my forms cabinet?  Did he buy something, sell something, borrow money?  Get arrested?  Start a business?  Join the army?  Pass away?
Did his name fit him?  Was he sweet?  Was he the town baker, or the candy maker?  Or was he a dastardly villain with a handlebar moustache, the type to cast helpless widows and orphans from the their farms in the dead of winter?
Did the whole town turn out for his funeral—pay final respects as Mr. A.L. Sweet traveled on to the great by-and-by?  Or was he buried alone, in the rain, with only the undertaker and the gravediggers to bid him adieu?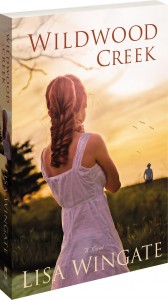 This is where the crazy quilt of story begins—with a name, a glimpse, a notation in an unlikely place.  With questions tumbling over questions, all arms and legs like children cartwheel racing down a hill.  With a mist of wondering, with oddly-shaped shreds of reality, scraps of truth and fiction floating about.  For me, storytelling is so much about snatching up what's already there, about the turning, and the trimming, and the fitting, and the stitching.  That's why I like my busy writer space, with its clutter of found items and its myriad of nooks, cubbies, and drawers.  There are dozens of stories here, hundreds perhaps, or thousands.
Like the tale of A.L. Sweet.  He'll find his way into a book sooner or later, I'm sure.
 You can connect with Lisa  in so many ways! Her website: www.Lisawingate.com On Twitter:   http://twitter.com/#!/lisawingate On Facebook:  https://www.facebook.com/LisaWingateAuthorPage  Pinterest:  https://pinterest.com/lisawingatebook/  She blogs Mondays at: www.SouthernBelleViewDaily.com
Thanks for being here, Lisa, and sharing such a beautifully composed story about your passion for furniture with drawers!  Readers, a signed copy of Wildwood Creek awaits a lucky winner. Just leave a comment below between now and noon Pacific on Wednesday, Feb 26, and you are in the running.