To mark the release of A FALL OF MARIGOLDS this month, I am happy to welcome writer friends to the blog to share with you a story about a family heirloom that is precious to them. An heirloom scarf is what ties two women together in A FALL OF MARIGOLDS, and heirlooms are what tie these blog posts together. At the end of the month, there will be a fun giveaway. Enjoy!
On this lovely Valentines Day, I am happy to welcome Kaira Rouda to the blog to share a wonderful story about a special little spider plant.  Kaira is an award-winning entrepreneur, marketer, speaker and author. She is the bestselling  author of REAL YOU INCORPORATED: 8 Essentials for Women Entrepreneurs (Wiley), founder of numerous companies including Real You, and brand creator of Real Living Real Estate, the nation's first women-focused real estate brand.  Her first novel, HERE, HOME, HOPE (Greenleaf Book Group) was published in May of 2011, and won a 2011 Indie Excellence Award for fiction. Read to the end to see how you could win a copy.
"But most importantly, it survived."
My keepsake is a livi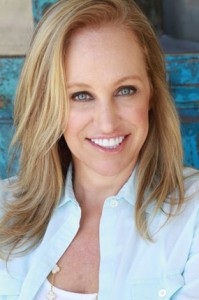 ng and growing reminder of a relationship that has withstood the test of time. I call it The Wedding Plant and this is its story:
The wedding plant originated as a tiny spider plant that was part of my green and white wedding bouquet I held in my trembling hands in May of 1990. My mother, an avid gardener with a bright green thumb, plucked the unsuspecting spider from my bouquet just before I tossed it per custom to all the single ladies at the reception.
Mom returned home that night, planted the little spider, and helped it grow for the next five years. I had no idea she'd even thought to do this. On our 5th Wedding Anniversary, she presented the plant to my husband and I.?Through the ensuing years – including four babies, two cats, three dogs, many jobs, snowstorms, six different houses in two states, two birds, and all that life will throw your way – the wedding plant has flourished. Sure, some years it looked a little pale. Other years, it had offshoots galore, growing and thriving with gusto.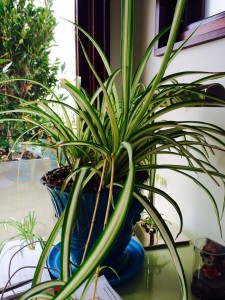 But most importantly, it survived. And with its survival, it became more than just a plant, it has become symbolic of the struggles and joys of a long-term relationship, of the need for its care and feeding, of the need to nurture and cherish it.
It sits behind me as I write in my office, soaking up the Southern California sunshine, a daily reminder of love.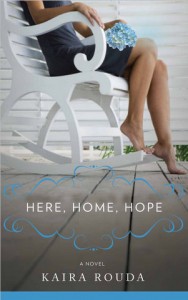 You can connect with Kaira on her website, on Facebook, and on Twitter at @KairaRouda.
Thanks for being here today, Kaira, and sharing such a lovely story of the resiliency of love and commitment on this Valentines Day. Readers, just comment below for a chance to win a copy of Here. Home. Hope. Do you have an heirloom reminder of love? Do share. Or just say hello! Enter your comment by Weds. Feb. 19 noon Pacific. Good luck and Happy Valentines Day!