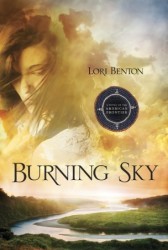 You probably know by now I am a fierce devotee to historical fiction – it's the perfect backdrop to explore timeless themes. So I am happy to welcome Lori Benton to the blog today to talk about her debut BURNING SKY, a novel of the American frontier. The best part is, I have a copy of her book to give away, so do please read to the end so that you can get in on that.
Before we start, here's just a little teaser to get you primed for Lori's wonderfully woven story:
"I remember the borders of our land, though I have been gone from them nearly half the moons of my life. But who there will remember me? What I have seen, what I have done, it has changed me.
I am the place where two rivers meet, silted with upheaval and loss.
Yet memory of our land is a clear stream. I shall know it as a mother knows the faces of her children. It may be I will find me there."
Abducted by Mohawk Indians at fourteen and renamed Burning Sky, Willa Obenchain is driven to return to her family's New York frontier homestead after many years building a life with the People. At the boundary of her father's property, Willa discovers a wounded Scotsman lying in her path. Feeling obliged to nurse his injuries, the two quickly find much has changed during her twelve-year absence—her childhood home is in disrepair, her missing parents are rumored to be Tories, and the young Richard Waring she once admired is now grown into a man twisted by the horrors of war and claiming ownership of the Obenchain land.
When her Mohawk brother arrives and questions her place in the white world, the cultural divide blurs Willa's vision. Can she follow Tames-His-Horse back to the People now that she is no longer Burning Sky? And what about Neil MacGregor, the kind and loyal botanist who does not fit into in her plan for a solitary life, yet is now helping her revive her farm? In the aftermath of the Revolutionary War, strong feelings against "savages" abound in the nearby village of Shiloh, leaving Willa's safety unsure.
Willa is a woman caught between two worlds. As tensions rise, challenging her shielded heart, the woman called Burning Sky must find a new courage–the courage to again risk embracing the blessings the Almighty wants to bestow. Is she brave enough to love again?
SUSAN: I always ask my writer friends where the idea for their novel originated because I know sometimes the seed of a story can come from an unlikely place.  From where did the idea for Burning Sky spring?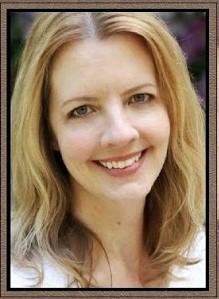 LORI: Sometimes, this far removed from that moment, the original kernel or idea that inspired a story is buried under too many layers of plotting and research and day to day writing, but with Burning Sky I do retain the memory. There were two images that intruded upon me, rather out of the blue, that I consider catalysts for Willa Obenchain's story. The first was of an old woman living in a ramshackle cabin in a clearing bounded by ridges, alone and isolated. I wondered who she was and why she seemed so sad. I knew her name was Willa.
The second image was of a young woman, taller than most women of her time and strong, striding across a mountain with a heavy basket on her back and a heavier burden in her soul. I sensed she was coming home after a long time away. I also knew these were the same woman and that the first image would be Willa's fate… unless someone intervened. From that point the story grew as I began to ask the dozens of what ifs that come with story-weaving, and did my research into the time and place, once I'd decided exactly when that was.
SUSAN: I can tell from reading this book that your research was extensive. How did you approach the research component? Did you learn anything that surprised you?
LORI: Because I live on the west coast, I approach my initial research via books and websites, and friends and acquaintances I have who live back east. But I also have memories to tap. I spent the first half of my life on the east coast and have visited states from New York to Florida. I'm familiar with the eastern woodlands from the coast to the mountains, and still remember what a humid summer day feels like, or a dark rolling thunderstorm, or a twilight dancing with lightning bugs, though I don't get to experience those things where I live now (thunderstorms are rare and always make me nostalgic). And there's always Youtube and Google Earth, to help with visuals of a specific place.
The more I've learned about the 18th century New York frontier, before and after the Revolutionary War, the more intrigued I've become. I'd say my biggest surprise (confining such to the research that directly impacted the writing of Burning Sky) was how devastating the War was on the land and people of the Mohawk Valley and New York frontier, how far back east that frontier was pushed due to raids from the British and pro-British Indians, and how long it took for the largely abandoned farms and communities to recover. The landscape Willa Obenchain and Neil MacGregor enter at the start of the book was one of burned homesteads and straggling-back refugees, some of them as scarred by violence as their farms had been. It would be some years before the Mohawk Valley became again the thriving bread basket of the region that it formerly had been.
SUSAN: You describe a shade of blue in one of your descriptive sentences as the shade of "trade beads," which I thought was delicious! Do you spend a great deal of time looking for just the right way to describe something or does that come pretty easy to you?
LORI: When I write description, the most important thing to me is to take into account whose point of view I'm writing from. If Neil had been describing that shade of blue, instead of Willa, he would likely have picked a vivid flower to compare it to. But Willa is coming from a place where trade beads were common things. She no doubt sewed them onto clothing and other articles. It's a description she wouldn't have to reach far for. Knowing this required extensive research into her culture and setting, so that had to come first (though I continue researching right up through the editing phase of a manuscript). I strive to give each point-of-view character a distinctive narrative voice. Description (what each character uniquely notices and the language they use to describe it) is a huge part of that. The better I know my characters in the first draft, the easier those character-specific descriptions come, but often it's in one of dozens of later passes over a scene that I finally hit upon the right phrase.
SUSAN: When you are asked to share what Burning Sky is about in a nutshell, how do you answer?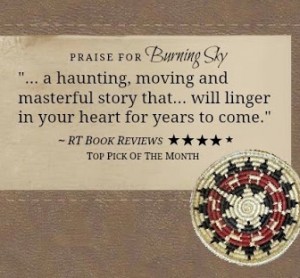 LORI: Never the same way twice, it seems. But in a nutshell, Burning Sky is about finding the courage to trust in the goodness and sovereignty of God after experiencing devastating loss—enough to risk living and loving again.
SUSAN: What do you want readers to take away from this book when they are finished?
LORI: I want readers to hold these characters in their hearts for a very long time to come, because I love them so myself. I also hope with all my heart that readers feel strengthened in their faith in a God who has a plan for their eternal good, who entered this fallen world with all its grief and trouble to carry out that plan, in the form of His Son Jesus. Through Him we inherit blessings now, and even more eternally.
SUSAN: What did you take away from the writing of it?
LORI: A passion for telling more stories set on the 18th century New York frontier. I feel I've only touched the tip of this iceberg.
SUSAN: What's next on the horizon for you?
LORI: Another novel releasing from WaterBrook Press, next spring (2014). The Pursuit of Tamsen Littlejohn is set in western North Carolina (present day Tennessee) against the backdrop of that region's bid for separate statehood in the mid-1780s. In brief: With a murdering stepfather and a spurned suitor in pursuit, Tamsen Littlejohn bargained for hardship, rough-living, even mortal danger in her Overmountain flight to freedom with young frontiersman Jesse Bird. But falling in love? That was never part of the plan.
Susan, here! Thanks for being my guest, Lori. And now for a giveaway! Just leave a comment here before Thursday, August 15 at midnight Pacific and you're in the drawing. I will announce the winner a week from today so please stay tuned. It's a great book, folks. (If you want to read the first two chapters, which are delicious, by the way, click right here: