Today as a special treat I have a three-book giveaway! (Read all the way to the end to see how to get in on the draw). Two of these books I had the pleasure to read in early form to provide cover quotes – always a delightful perk of being an author – and one is a brand new release from a friend of mine who sent me a copy specifically for this sweet purpose, to give away on my blog.
WHEN WE WERE YOUNG AND BRAVE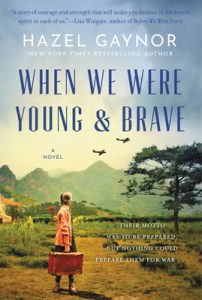 I had the immense pleasure of meeting Hazel Gaynor in person after being friends from a far (she lives in Ireland) at the 2019 Historical Novel Society's annual conference in Washington, D.C. last summer. How wonderful it was to finally see each other IRL, as they say! Hazel is a stunning writer, and the The New York Times bestselling author of The Girl Who Came Home. This new novel is set in China during WWII, and inspired by true events surrounding the Japanese Army's internment of teachers and children from a British-run missionary school. I loved it.  Here's a bit more about the book:
When Japan declares war on Britain and America, Japanese forces take control of the school and its young students who are separated from their parents. Faced with the relentless challenges of oppression, the school community must rely on their courage, faith and friendships as they pray for liberation – but then they are sent to a distant internment camp where even greater uncertainty and danger awaits.
Inspired by true events, When We Were Young and Brave is an unforgettable novel about impossible choices and unimaginable hardship, and the life-changing bonds formed between a young girl and her teacher in a remote corner of a terrible war.
Here's what I said in my endorsement:
"A compelling story of innocents caught up in the machine of global conflict, so wonderfully written and soul-stirring. Gaynor beautifully explores the heart's brave struggle to make sense of the upside-down world that is war.  Well done!"
Lisa Wingate said it's "A story of courage and strength that will make you believe in the heroic spirit in each of us."
You're gonna love this one. (side note: Hazel also writes with my Tall Poppy pal, Heather Webb. Their newest collab is Meet me in Monaco…)
MILLICENT GLENN'S LAST WISH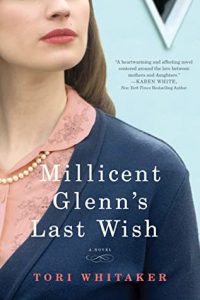 Tori Whitaker's debut just hit bookstore shelves on Tuesday! I had the lovely treat of reading an early copy for endorsement, and also meeting Tori in person during a book tour (oh, remember travel??) when I was in the Atlanta area.
I love what she says about this first book and the way we look at our family histories: "My dream of writing a book first took root in my twenties, and some forty years later, I've seen that dream come true. Millicent Glenn's Last Wish (part historical fiction and part contemporary family drama) is my debut novel. I love stories that shift between the past and present. Maybe that is because my family had five living generations upon my birth, and when my own grandchildren came along, my family had five living generations again. This experience has also given me a sense of what we observe in those who've come before us … and what we pass down from one generation to the next."
Here's what the book is about in a nutshell:
Millicent Glenn is self-sufficient and contentedly alone in the Cincinnati suburbs. As she nears her ninety-first birthday, her daughter Jane, with whom she's weathered a shaky relationship, suddenly moves back home. Then Millie's granddaughter shares the thrilling surprise that she's pregnant. But for Millie, the news stirs heartbreaking memories of a past she's kept hidden. Millie's last wish? For Jane to forgive her.
Sixty years earlier Millie had a husband she adored, a job, a precious baby girl, and another child on the way. She had the perfect family and the perfect life. All it took was one shattering moment to reshape Millie's life and the lives of generations to come.
As Millie's old wounds are exposed, so are the secrets she's kept for so long. Finally revealing them to her daughter might be the greatest risk a mother could take in the name of love.
And here's what I said about it:
"Tori Whitaker explores the depths of mother-love with insight, care, and heart-wrenching honesty in this post-WW2 story brimming with exceptional historical detail. A moving and emotionally-charged debut by a writer to watch."
Jenna Blum calls Millicent Glenn "a heroine to cheer for."
I bet we are going to be seeing more from Tori!
THE GOOD LUCK STONE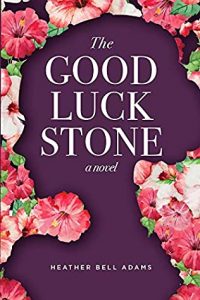 Heather Bell Adams and I have only been able to be online friends but I've no doubt someday our paths will cross. Her new book, The Good Luck Stone, I didn't read in early form but when it was released not too long ago I wanted to celebrate with her by giving away a copy on my blog and also give it some spotlight time.
Heather's newest is a story about friendships and secrets kept and secrets revealed. Here's a bit more about it:
At ninety, Audrey Thorpe still lives in a historic mansion on palm-tree-lined Victory Drive, determined to retain her independence. But when her health begins to decline, the family hires a part-time caretaker. The two women seem to bond—until Audrey disappears. The caretaker doesn't know that Audrey has harbored a secret for seven decades, since her time as a nurse in the South Pacific during World War II.
As the story moves between the verdant jungles of the war-torn Philippines and the glitter of modern-day Savannah, friendships new and old are tested. Along the way, Audrey grapples with one of life's heart-wrenching truths: You can only outrun your secrets for so long.
My dear friend Julie Cantrell says Heather's new book is "a plot-perfect page turner…Adams has hit the sweet spot, mastering a literary tone with commercial pacing…a screen-worthy winner and a book club bullseye."
And isn't that cover beautiful!?
Heather Bell Adams' first novel, Maranatha Road, won the gold medal for the Southeast region in the Independent Publisher Book Awards and was selected for Deep South Magazine's Fall/Winter Reading List. The Good Luck Stone appeared on Summer Reading Lists for Deep South Magazine, Writer's Bone, The Big Other and Buzz Feed. Originally from Hendersonville, NC, Heather lives in Raleigh with her husband and son, Davis, where she's also a lawyer.
Congrats on the new book, Heather!
So there you have it friends! Just comment below with any kind of hello and your name is in the hat for the giveaway. If you comment here and on the Facebook post, you get your name in twice! I will have random.org draw a winner on Weds, Oct 7 at noon Pacific. One winner will receive all three books!
Good luck and happy reading!