When I learned this morning of novelist Rosamunde Pilcher's death, my first thought flew to my grandmother, my dad's mom, who I spent much time with in my growing-up years. She and my Papa lived just a short drive away from my San Diego home, and my sisters and I spent our summer days at their house when we were out of school. My paternal grandmother, who was known as Grammary in the family, often took us to her local library on those long summer days, letting us poke about the shelves and check out books on her card, and she always came home with books for herself. She was yet another one of the people in my childhood years who exampled to me the love and joy of reading.
It wasn't until my adult years, back when I was in my early thirties, when I hungered to be a novelist but didn't think I could accomplish it, didn't even know if it was in the realm of possibility, that she told me her new favorite novel was The Shell Seekers by Rosamunde Pilcher. She loved it, told me it was writing to aspire to, and gave me her copy which I still have. I read it and fell in love myself with this book that in mass market form is as thick as an Oxford dictionary. And in its own way The Shell Seekers did indeed nourish my desire to try my hand at novel-writing – even though it was another decade before I attempted it – every time I saw its ample spine on the bookshelf.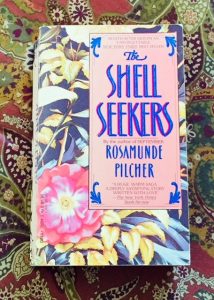 But I read it thirty years ago and all I could remember about the book besides it being Grammary's favorite was that I loved it too. So when news of Pilcher's passing reached me, I felt a pang of sadness – not just because a good writer had left us – but because the news reminded me of my Grammary, whose wit and jokes and cooking and hugs and love I miss.
She lived into her nineties and saw me become what I wanted to be. I'm glad for that.
And I'm glad books were important to her and our trips to her library were routine and that I have her The Shell Seekers, which is, according to Goodreads, a story "of connection: of one family, and of the passions and heartbreak that have held them together for three generations…it's a magical novel, the kind of reading experience that comes along only once in a long while."
Here is the premise, in case you want to know, which I had to re-read to adequately remember: "At the end of a long and useful life, Penelope Keeling's prized possession is The Shell Seekers, painted by her father, and symbolizing her unconventional life, from bohemian childhood to wartime romance. When her grown children learn their grandfather's work is now worth a fortune, each has an idea as to what Penelope should do. But as she recalls the passions, tragedies, and secrets of her life, she knows there is only one answer…and it lies in her heart."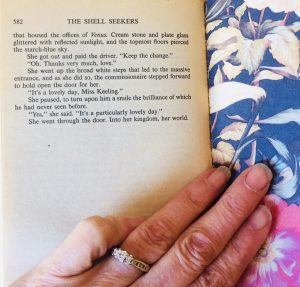 So of course now I am going to have to take it back up and re-read! I peeked to the end to see how many pages (nearly 600!) and I love again how it ends: "She paused, to turn upon him a smile the brilliance of which he had never seen before. 'Yes,' she said. 'It's a particularly lovely day.' She went through the door. Into her kingdom, her world."
Thanks, Ms. Pilcher.
And thank you, Grammary, for coaxing me to find my own little kingdom, in my own world. I am grateful.
And I miss you…