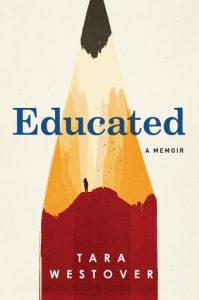 I've been on the book tour trail and neglecting the blog a bit, but that doesn't mean I haven't been reading, because the great thing about airplane travel is ALL THAT READING TIME! It's the best. I can't write on a plane (because someone will see what I'm writing as I'm writing it and I hate that) and I can't sleep on a plane (I don't know why, other folks do it famously, even resting their heads on their tray tables to do it, but not this girl) but I can read. And I do. I've got some good reads to tell you about but I'm going to spread out the love and do it one Friday at a time.
Today I want to share my thoughts on the runaway bestseller, EDUCATED, a work of non-fiction by Tara Westover. I remember seeing this book when it first came out and kind of loving that pencil drawing (could nearly smell that wood shaving/graphite combo that only an old-fashioned pencil can produce when I looked at it) and wondering what it was about. I didn't realize it was a memoir of one woman's growing up in a very unique, dare I say it, dysfunctional quasi-Mormon family in the mountains of Idaho. It's a book about that kind of upbringing (ultra conservative, Ruby-Ridgish, oppressively survivalist) but more than that, it's a book about this woman's struggle to become her own person, which many of us do within the safe guard rails of home, but not her. (Here is a short PBS video in her own words…)
The reading was compelling, partly because it's a true story and partly because Tara Westover is a gifted wordsmith. Though she never stepped inside a formal classroom until she was seventeen, she nevertheless overcame every seemingly impossible hurdle to her education. She earned a Ph.D within a decade of that first moment in real school, all while navigating her journey to discovering her place in this world, sometimes with the help of her parents and siblings, but more often despite them.
I was reminded of Jeanette Walls' THE GLASS CASTLE, which I loved, and though the stories are different, the two books evoke the same feelings, at least for me. I love what is written about the book in the inside front cover: "EDUCATED is an account of the struggle for self-invention. It is a tale of fierce family loyalty, and of the grief that comes of severing one's closest ties. With the acute insight that distinguishes all great writers, Westover has crafted a universal coming-of-age story that gets to the heart of what an education is and what it offers: the perspective to see one's life through new eyes, and the will to change it."
All of us are in a classroom of some kind when we're growing up. We are all learning to be the person we will be the rest of our adult life. It may not be a traditional room with rows of desks but learning is taking place within the environment provided to us, from the moment we take our first breath. We are born, we begin to grow, we begin to learn. I am sure there are plenty of untold sad stories out there where children raised in oppressive learning environments could not break out of them, but this is a powerful story of a young woman who did.