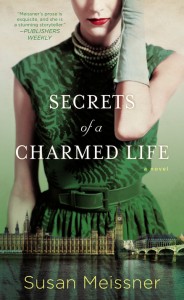 It's always a treat to announce a great sale for the e-version of one of my books! For a few more days, SECRETS OF A CHARMED LIFE, which was named a Goodreads Choice Award finalist in 2015 is just $1.99 for the e-book on whatever format you read electronically. This book is a fave of mine (they are special in their own way, but these characters linger, four years after writing them…) The sale won't last long, so grab it if you've not read it yet, or tell a friend if you have.  This is a story about WW2, the evacuation of London's children to the countryside and what happens when two young sisters are separated in the chaos of the London Blitz. Mine isn't the only ebook enjoying a super sale. As of this writing, PEACE LIKE A RIVER, which I extolled on the blog last Friday, is also on sale this week as an e-book for the staggeringly low price of just $1.33. That is, like, just a buck and a bit of loose change. For one of the best books I've ever read. Amazing. And it's a deal that surely won't last forever. And just one more. Hazel Gaynor's THE GIRL WHO CAME HOME, a story of a fictional survivor of the RMS Titanic. This was Hazel's debut novel, and it won the 2015 RNA Historical Novel of the Year award, and on sale for just $1.99.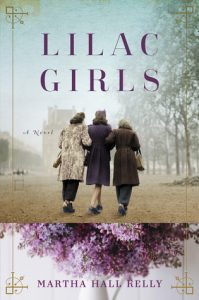 Last week I finished LILAC GIRLS, which I read in five days (someone applaud, please? I had a crazy-busy week!) for the book club I'm in. It's been on my nightstand, calling out to be read for more than a year. I can see why it's so beloved by so many readers and it's not hard to give it five stars for the beauty of the writing, the emotional depth of the characters and the raw and wrenching detailing of the brutality of WW2. The cover with those three women walking so close together has intrigued me from the moment I bought the book as a hardcover when it first came out. The actual story is different from what the cover suggests, at least to me and many members of my club, but we decided it is up to the reader to decide who those three women are. If you've read the book, I'd be curious to hear if you agree. I was also unaware until I read the Acknowledgements that the character Caroline was a real person, a heroine any way you look at it, and someone I would've liked to have known. Highly recommend this one, folks.  I read on Martha's Goodreads page that she is working on a prequel. You can find out more info about the incredible, true story behind LILAC GIRLS at her website: http://www.marthahallkelly.com and there are lost of great pics on her ever-changing Pinterest pages.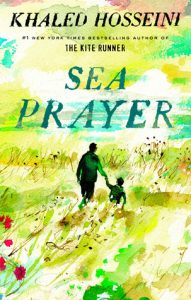 When people ask me to name some of my favorite authors, I right off the bat mention Khaled Hosseini. I loved THE KITE RUNNER and A THOUSAND SPLENDID SUNS and AND THE MOUNTAINS ECHOED, even though all three brought me to tears.  I will read anything he writes.  It's been four years since his last book, and while I am hungry for a new one by him, the next offering will be for children. I just read in Publishers Weekly this morning (in a starred review, no less) that SEA PRAYER, which will release in mid-September, is a book for kids ages 7 and up. The book was inspired by the current Syrian refugee crisis and in particular, the photograph of a three-year-old Syrian who drowned off the coast of Turkey in 2015.  The story is composed in the form of a letter, from a father to his son, the night before they will attempt to flee their war-torn country. As the son sleeps, the father "reflects on the dangerous sea-crossing that lies before them. It is also a vivid portrait of their life in Homs, Syria, before the war, and of that city's swift transformation from a home into a deadly war zone."  I've a feeling here will be another book of his that will break my heart. I know I can't solve all the world's problems, but I can't close my eyes to them, either.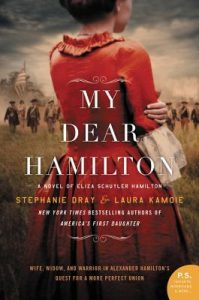 Lastly, there's a Goodreads giveaway going on for MY DEAR HAMILTON by Laura Kamoie (who I had the pleasure to do a book event with and she's amazing and fun and eloquent) and writing partner Stephanie Dray.  It's historical fiction centered on Eliza Schuyler Hamilton, "a revolutionary woman who, like her new nation, struggled to define herself in the wake of war, betrayal, and tragedy. Haunting, moving, and beautifully written…" I never win Goodreads giveaways but I still enter them! I figure one of these days…I gave this book to my mom for mother's day and she LOVED it. When I get through the mountain of advance reader copies I am reading for endorsement I am going to borrow it from her. Here's the link for the giveaway and may the odds be ever in your favor: https://www.goodreads.com/giveaway/show/282754-my-dear-hamilton-a-novel-of-eliza-schuyler-hamilton
Have a splendid week!
PS – If you haven't watched the film adaptation of THE GUERNSEY LITERARY AND POTATO PEEL PIE SOCIETY currently streaming on Netflix, it turned out great! I had my doubts that an epistolary novel could be adapted for the screen, but Netflix did a great job. It's been too many years since I read (and loved) this novel to pick up on any massive departures from the original story. I know they had to leave some stuff out but it wasn't obvious to me what it was other than just sufficient time to fully draw out all the characters.  I think you'll like it! Here's the trailer if you want to take peek: