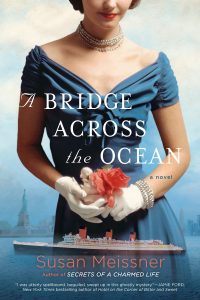 I am so happy to announce that A BRIDGE ACROSS THE OCEAN releases today! I loved writing this book for so many reasons. One, I got to become good friends with one of the few remaining war brides who emigrated to America aboard the RMS Queen Mary. You can read June's remarkable story here or watch a lovely 6-minute documentary here. Two, I took a bit of a creative risk with regard to life after death and the existence of ghosts (You can read why I decided to include a ghost or two in this book here!). Three, I fell in love with this storied ship; first a luxury ocean liner, then a troop carrier, then a transport for war brides, and now a floating hotel (famously haunted, so say some) in California.
A BRIDGE ACROSS THE OCEAN is a story primarily about two European women who meet aboard the Queen in 1946. They are among two thousand other war brides who married American servicemen during WW2 and are now emigrating to the States. Though both of them survived the hell of war, only one of them, a young French woman named Simone, is an actual war bride. The other, Annaliese, is a German ballerina pretending to be a Belgian war bride to escape a terrible situation. Her secret comes out on the last day of the sailing, and when it does, tragedy strikes. Meanwhile in the present day, thirty-something Brette just wants to live a normal life, but the ability of being able to see ghosts, a gifting that pops up randomly in the women in her family, is making that impossible. When she visits the famously haunted RMS Queen Mary, she comes face to face with the ghostly echoes of Simone and Annaliese's fateful crossing. She sets out to uncover the truth, right an old wrong, and maybe in the process, learn to live with who she is.  I hope you love it as much as I do! All the buy links are listed on this Berkley Publishing Group page.
Where I will be…
I will be doing some traveling with this book and I would love to see you at one of these book tour stops: (Email me if you would like additional information about any of these)
March 23 Laguna Beach Books  6PM in Laguna Beach, CA
April 8 Lunch and speaking event AAUW Author Luncheon at the Jacobs Center, San Diego, CA
April 22 Barnes & Noble with war bride June Allen 3PM in Noblesville, IN
April 27 Bookmark Shoppe book club discussion 7PM in Brooklyn, NY
May 3 Aaron's Books at JoBoy's Brew Pub 6:3oPM in Lititz, PA
May 6 Corona Public Library Historical Fiction Brunch in Corona, CA
May 20 Adventures by the Book event with war bride June Allen aboard the Queen Mary (a ticketed event; only a few spots remain!)
May 21 Meet and Greet with war bride June Allen 2 PM aboard the Queen Mary in Long Beach, CA
July 13 Common Good Books 7 PM in St. Paul, MN
July 16 Barnes and Noble (time TBA) in Mankato, MN
July 22 Newport Beach Library  6PM Authors Under the Stars event in Newport Beach, CA
Give me shout out if I am headed to your neck of the woods! I am so very glad you are a part of my reading community.  I would love to hear what you think about this book after you've read it. And if you've got a ghost story, I'd love to hear it! I was surprised to hear during my research time how many people have one…
p.s. Happy Pi Day!