To mark the release of A FALL OF MARIGOLDS this month, I am happy to welcome writer friends to the blog to share with you a story about a family heirloom that is precious to them. An heirloom scarf is what ties two women together in A FALL OF MARIGOLDS, and heirlooms are what tie these blog posts together. At the end of the month, there will be a fun giveaway. Enjoy!
I am happy to welcome to the blog today, Jessica Brockmole. She spent several years living in Scotland, where she knew too well the challenges in maintaining relationships from a distance. She plotted her first novel on a long drive from the Isle of Skye to Edinburgh. She now lives in Indiana with her husband and two children. Read to the end to see how you might win a copy of her latest book, Letters from Skye, a sweeping story told in letters, and spanning two continents and two world wars. This debut novel captures the indelible ways that people fall in love, and celebrates the power of the written word to stir the heart.
"The scraps of ephemera…"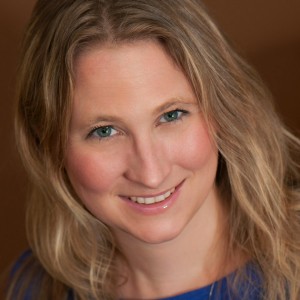 I come from a family very serious about their heirlooms. They hold on to them tightly and pass them on reluctantly. Beds, chests, Bibles, wedding dresses, medals, family photographs—all are treasured and given places of honor in the house. But the little things, the scraps of ephemera that usually languish in attic boxes, are often overlooked. As a historical novelist and an enthusiastic researcher, I find the ephemeral to be the best part, where stories beyond the tangible can be teased out. And so I willingly accept the postcards, school papers, recipe cards, and books not noticed beside the other heirlooms.
One of these that I treasure is my grandmother's yearbook. Blue and silver, embossed with stars amid the universe and "1938," it documents her last year at McKinley High School in Canton, Ohio. The certificate of credits tucked into the yearbook shows good grades, especially in English and applied math, with most of her credits built up in the school's commercial program. Ladylike even then, she received perfect marks in deportment.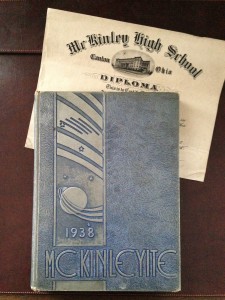 She rounded out her studies with the Booster club, the Modern Writers' club, and one year on the girls' basketball team. I can just pick her out in the tiny black-and-white group photos.
The researcher in me loves the yearbook for the pages of photographs, the autographs and scribbled mottos ("Loads of luck and happiness."), the ads for local businesses ("Canton Pure Milk Co. – There Is Health in Every Drop"), the scraps of memories tucked between the pages. It's a record of a year, of a city, of nine hundred hopeful teenagers. The book and everything in it show a fascinating slice of local history. But as a piece of family history, the yearbook represents so much more.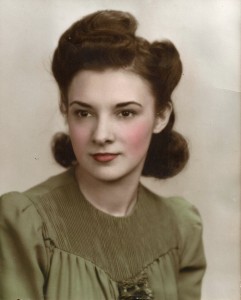 Grandma was the oldest child of Romanian immigrants, hard workers who came to America young (Great-Grandma was sixteen, alone, and traveling with a borrowed passport, if family stories are to be believed). Her parents were uneducated and neither could read or write in English, but they worked where they could—Father in factories and steel mills, Mother in domestic service. They worked so that their six children could go to school.
My grandmother not only went to high school, but graduated. I have her carefully calligraphied diploma in the yearbook. And that motivation carried through the next generations. My father graduated from high school and took college courses. My sister and I graduated from college and from graduate programs. From my great-grandparents, with their dreams as they sailed across the Atlantic, descended generations who built upon those dreams.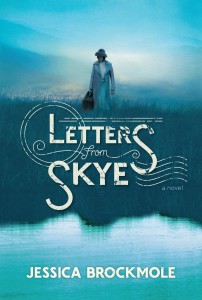 When I flip through the pages of the yearbook and the papers slipped between the pages, at everything my grandmother accomplished in her four years at McKinley High School, it makes me think of my own years in school. She sat in the audience at both my high school and college graduations, smiling so big that she outshone the rest of the audience. I know she'd be proud of everything that I've achieved since.
So, you see, that starry blue-and-silver yearbook from McKinley High School is more than a piece of history. It's the hopes of an immigrant family, writ on glossy pages and bound between embossed cardboard. That yearbook reminds me of the women in my family who reached to pull the stars down closer so that I could touch them.
You can connect with Jessica on her website and on Facebook, but most often on Twitter at @jabrockmole.
What a great story, Jessica. And what a beautiful woman your grandmother was. If you would like to win a copy of LETTERS TO SKYE (isn't the cover delish?)  just leave a comment below by noon Pacific on Tuesday, March 4. Random.org will choose a winner! Good luck. Anyone else have an old yearbook from days gone by?