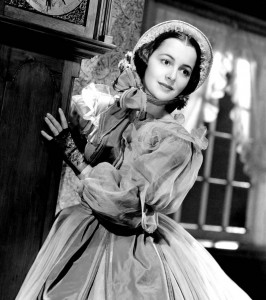 Today I simply must send you hopping over to this blog interview with the remarkable Olivia de Havilland, the wildly talented actress who played Melanie Hamilton in Gone with the Wind (among many other memorable movie roles.)
Ms. de Havilland, who was born to British parents in Tokyo, Japan, will celebrate her 100th birthday on July 1 of this year. She is the only major star of Gone with the Wind still with us. This interview, which was published just a few months ago, offers us a candid look into what it was like to be a part of the most iconic movie ever made.
This quote from the interview is my favorite. Ms. de Havilland was asked which means more to her, having won the highest honors for her contributions to art and culture or being in the most popular movie ever produced? She said:
"Must I choose between a sapphire and an emerald?"
It was my pleasure to spend quite a bit of time with Melanie and Scarlett this past year as I wrote Stars Over Sunset Boulevard, my latest book about two studio secretaries who become best friends on the 1939 movie set of GWTW. Melanie is as deeply complex as character as Scarlett. You don't appreciate how much until you truly study Melanie as a literary figure. Olivia de Havilland played her perfectly.
Enjoy the interview! Here again, is the link: http://gardenandgun.com/article/interview-olivia-de-havilland