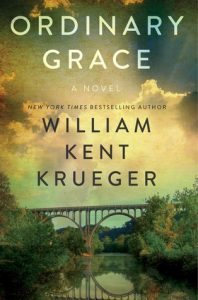 It's been way too long since I've posted on the blog and I feel bad about that. The holidays, as they often do, got in the way of normal routines because I let them, and then in January, I began in earnest to write a new book – about which I will keep you in the loop in future posts – and I let that heady experience also keep me from feeding this blog on Fridays. I apologize.
But I'm back in the saddle today with a book recommendation. Last month (I have to say that because January is already GONE!) that I absolutely loved. Ordinary Grace by William Kent Krueger is a five-star book all the way around. The title was a new one for me and was the choice of one of the readers in the book club I am in. I was surprised – still am – I hadn't heard of this novel because it is masterfully written and it has been out for several years.
The story is one of those where the narrator in midlife is looking back on his childhood and sharing about an experience that forever shaped him. It's also set in Minnesota, which is where I lived for 13 years, and pretty much in the same area, so I could see, taste, touch, and feel nearly every scene. Frankie is the 13-year-old son of a small town Methodist minister. He has a younger brother, who, incidentally, was my favorite character because of his tender heart, funny lines, and aching vulnerability. Frank tells the story of a particular summer where death had hold on their little town, in many different ways – from the tragedy of a little boy playing too close to train tracks to suicide to a murder. It was a summer like no other for lots of reasons but certainly because life itself was being dealt a blow. And when life is dealt blow we who know that life is precious can't fail to wonder what impact it will have on us. I hesitate to share more about the storyline because I do not want to spoil it for you. Suffice it to say I was compelled to keep reading, and I didn't want it to end.
But I will leave you with a quote from the book that resonated with me and I still find it echoing in my mind weeks after having read the book. The scene takes place at a funeral and Frankie's father is giving the message. The community is reeling from so much loss of life and he offers this bit of comfort to all those who mourn:
"When we feel abandoned, alone, and lost, what's left to us? What do I have, what do you have, what do any of us have left except the overpowering temptation to rail against God and to blame him for the dark night into which he's led us, to blame him for our misery, to blame him and cry out against him for not caring? What's left to us when that which we love most has been taken? I will tell you what's left, three profound blessings. In his first letter to the Corinthians, Saint Paul tells us exactly what they are: faith, hope, and love. These gifts, which are the foundation of eternity, God has given to us and he's given us complete control over them. Even in the darkest night it's still within our power to hold onto faith. We can still embrace hope. And although we may ourselves feel unloved we can still stand steadfast in our love for others and for God. All this is in our control. God gave us these gifts and he does not take them back. It is we who choose to discard them."
I've long known and loved the verse in the letter to the Corinthians Krueger references here, but I have never thought of those three graces – faith, hope, and love – that way; that they are ours to hold onto and ours to let go of, but that they can't be stolen from us. Only abandoned by us. The thought still moves me. There were other portions of the book that were like this, deeply part of the story, but deeply relevant to our real lives outside the novels we read to escape them for a bit.
So there you have it. Good words to begin 2019 with. Highly recommend. Happy reading, folks…