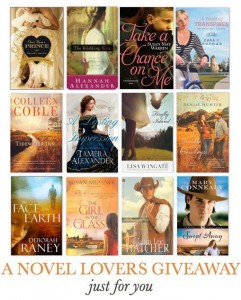 Some writer friends and I have a fabulous new giveaway for readers in the USA who are on Facebook.
The winner gets twelve autographed novels by twelve authors. All you need to do to enter is LIKE the authors' Facebook Pages. There are ten author Pages that must be liked in order to be entered. And we have two authors giving away books who don't have author Pages but are using their Facebook profiles. So if you would be so kind as to visit and "friend" Deborah Raney and Cara Putman, it would be deeply appreciated.  Just click on the names to see their profiles and send a friend request.
The easiest way to enter the contest is on the Facebook Giveaway page .
What's the big deal with having to LIKE all of our pages? We want you, our readers, to feel like a part of our writing and reading community. These other writers and I use our Pages wisely and for your encouragement and benefit. You'll be glad you LIKED us all. I promise. If you are unsure how the Rafflecopter form works, please look at the graphic at the bottom of this blog post. The instructions in red and screenshots will help make sure you enter correctly.  If you don't complete all ten, you will not be eligible to win. You must see "10/10 Entries Earned" to qualify to win the 12 books (see graphic a

t left).
What if you have already LIKED some of these pages? Can you still enter? YES!!! Just hit the I'M A FAN in the contest box  for the authors you have already LIKED at an earlier time.
The contest ends at 12:01 am on May 1, 2013 and the winner will be announced later that day. Good luck to everyone! (Note: If you are having trouble seeing the Rafflecopter form, you might need to update the Java program on your computer. It's free, just like the Adobe PDF reader.)
GOOD LUCK!