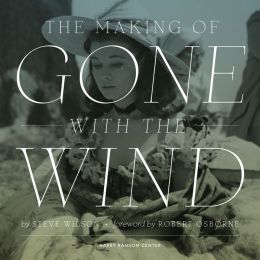 One of the things I enjoy most about writing historical fiction is the research I must do up front. The novel I am writing for release in 2016 is about two studio secretaries who meet in 1939 during the filming of Gone With The Wind, so I've been devouring everything I can about the making of this epic film for about a year, and had been anxiously awaiting the release of Steve Wilson's The Making of Gone With the Wind.
This beautifully designed book, pretty enough for your coffee table, was well worth the wait. It was just released this autumn in conjunction with a GWTW exhibit at the Harry Ransom Center in Austin, Texas, where a stellar collection of costumes and such has been on display since September. Steve Wilson's intriguing look back on the drama of making what is the most popular movie to date is both informational and insightful and the photos and sketches take you right to the sets at Selznick International.
Gone With the Wind, the book and its movie, has endured for a host of reasons; perhaps every person that loves it, loves it for a different reason. And it might be that it's hated by others for just as many varied reasons. But as Steve Wilson says in his book, "In the seventy-five years since Gone With the Wind premiered, Selznick's masterpiece has continued to elicit emotional responses from viewers. It is both adored and reviled. The controversies that attended the production of Gone With the Wind remain, and the film continues to be a powerful touchstone for questions of race, gender, violence, and regionalism in America."
Any backdrop that is a historically powerful touchstone is the perfect place to set a story. I am learning so much about human nature – the good, the bad, the ugly, and the beautiful, by writing this novel which at the moment is titled "Stars Over Sunset Boulevard." And may I just say you don't have to be a Windie to be impacted by Wilson's The Making of Gone With the Wind. I wouldn't call myself a long-suffering devotee. I just know I never tire of watching Gone With the Wind, the soundtrack alone gets me every time I hear it. It is as complex a story as any novelist could hope to deliver centered on the ages-old themes of love, home, and survival. Which is why it is such a powerful film. And always will be.