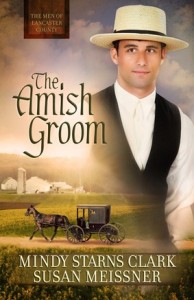 There was a time when I would look at the plethora (I don't use that word very often and it's always exciting when I do) of Amish fiction out there and I'd shake my head and wonder how in the world does SO much of it sell in the Christian marketplace. There are hundreds of Amish titles out there. Hundreds. Many of my good friends in the inspirational fiction market write Amish fiction and — hooray for them — have outsold me exponentially.
There is high demand for stories with Amish characters living out  life — with all its joys and sorrows, triumphs and trials —  in an Amish setting.  I never thought I would pen one, so when my agent, Chip MacGregor, came to me with an idea to collaborate with my good friend and fellow writer, Mindy Starns Clark (who is also agented by Chip)  on a series called Men of Lancaster County, my first response was, "Who? Me?" My genre is a blend of historical and contemporary. And at the time, I didn't know anything about Amish culture beyond the movie, Witness.
But as I was in between contracts and hoping to make the move into the general marketplace with my solo work, I decided to see what Mindy (and Harvest House Publishers, who gave me my start by publishing my first book in 2004) had in mind. The more I heard about the vision for Men of Lancaster County, the more I thought to myself, "I think I might enjoy this. I might even do okay at it." Mindy's a great writer, she and her husband John and come up with a great idea, and when it comes right down to it, I love Story. Story is about People in a Place working out a Problem. If I can write about a diarist during the Salem Witch trials or a Civil War spy in 1862 or a young dressmaker to a future queen of England, I can write about Amish men finding their way in a tiny cosmos called Lancaster County.
So there you have it! Behold, the first in the series is out this week. The Amish Groom is the story of a young man who was born of an Amish mother and a non-Amish father. He is a man with a choice to make, a life-defining choice. I absolutely love the trailer that Harvest House put together for it.

Sounds pretty good, right? You know what? I am really happy with the end result. It's the perfect blend of my and Mindy's storytelling skills. If you already love Amish fiction, I've no doubt you will be deeply satisfied. If you've never read it and have been wondering if you might want to try it, well, I suggest you try this one.
You can comment below (just say hi or tell us what you love about Amish fiction or what you wonder about Amish culture or…) and maybe win one (I am giving away five copies by random drawing this time next week) or hop over to your favorite book retailer and pick one up. If you happen to win one of these signed copies, you can give away the one you bought, and since it always feels good to give books to people, it's a win-win. I need to hear from you by noon Pacific April 11. Comment away!