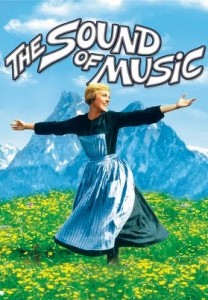 Of all the love stories that have been made into a movie, there isn't one I adore more than The Sound Of Music. I don't know if the romance between the real Maria and Capt. Von Trapp unfolded just like it did this film adaptation of their lives, but I will always believe it did (so please don't give me proof that it's otherwise!).
The movie celebrates its fiftieth anniversary this year and I am happy to say I've probably seen it fifty times. I know all the songs, much of the script, and when I had the wonderful opportunity in the early '90s to visit Salzburg, Austria, you can bet I was in movie-devotee heaven.  The Sound of Music is a film about the restoration of joy, zeal for goodness and justice, finding your purpose in life, learning to sing (!) and finding the courage to do what your heart tells you is right.
But it's first and foremost a love story.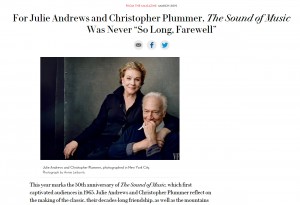 I can watch the scene in the gazebo when Maria and Georg share their first kiss a million times and never get tired of it. It is achingly romantic. That's probably why I love this photo of Julie Andrews and Christopher Plummer that accompanies this article in Vanity Fair. (You must hop over and take a peek and then come right back!). It's almost as if it's a portrait of Maria and Georg fifty years after they fled the Nazis rather than a studio shot of the actors who portrayed them.
There is something so deep and pure about the way this love unfolded on screen, so subtly, so gently and yet so profoundly deep. One moment Maria is sadly contemplating a move back to the abbey and Georg, marriage to a baroness he is only merely fond of. And the next he is asking her to marry him! And no one in the audience thinks they are rushing things. It's as though these two had always been meant for each other, from the moment he became a widower and she found she was desperate for a meaningful life. You can already tell in that moonlit gazebo that theirs is a love that iron-strong.
How about you? Did you grow up watching The Sound of Music over and over? What do you think of the love story between Georg and Maria? And how will you celebrate its fiftieth anniversary?
I think tea with jam and bread will be on the menu at my house…