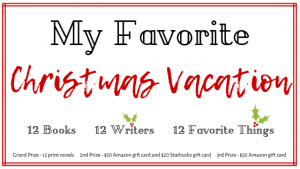 I'm pleased to be part of a dozen authors who've gotten together through time and space to present My Favorite Christmassy Things! My post today is the eleventh of 12. We've got some grand prizes that you can get in on and LOTS of individual giveaways (I have a mini-giveaway of my own today – read to the end to see what it is). But the grand prize is big ol' box of books and there are two smaller grand prizes to be won. I have a list of all the other participating authors at the end of my post here so that you can get in on the big good stuff and the individual giveaways. I was given the prompt My Favorite Christmas Vacation. So here it is.
To be honest, Christmas 1991 wasn't exactly spent on vacation. I've actually never been on vacation at Christmas time. I've either been at home with my big extended family or at home with my own little one. But that particular Christmas my husband and our then three children were living in southern Germany in a sweet little village called Mittelbrunn. My husband was in the Air Force at the time and stationed at Ramstein airbase. We lived 15 minutes away from the base in a skinny but splendid four-story house with tile floors with woods for a backyard and a little corner bakery that I could send the kids to get brotchen from and American neighbors on the other side of us in case I needed to borrow something I only knew the English word for. The village was so tiny, there was only the bakery, a gasthaus, a church or two and seven hundred or so German residents.
That was the Christmas that we fell in love with lebkuchen and pfeffernusse. It was the Christmas where I attended my first Christmas market in Rothenberg (see the video!) and where I learned how to properly say "Fröhliche Weihnachten" and  I nearly sounded like I had grown up saying Merry Christmas like that.

But the best part of that Christmas was waking up minutes before dawn on Christmas morning to the sound of church bells. The world outside our bedroom window was a shade of pale sapphire in those moments before sunrise. Snow glittered like diamonds on the streets and rooftops in the waning moonlight. And even though the world was still asleep those bells rang out with such joy.
It was as if the very air outside the house was calling out, "He's here! He's here! It's Christmas! Wake up! Wake up! The savior of the world is here!" I didn't mind for a second that the pealing of those bells tugged me from slumber and the children too. Those bells made me want to run outside with chimes of my own and ring out a response. I had never heard bells on Christmas morning like that, not like that. There has never been another Christmas quite like that one. We left Germany eleven months later in November 1992. That was to be my first and only Christmas in Germany. But I've never forgotten the sound of those bells.
I still eat lebkuchen every Christmas and I drink the same German coffee I fell in love with while there but I don't live where it snows anymore and I don't live where church bells ring out the arrival of Christmas Day. There is no little corner bakery I can send my children to and even if I could, my children are not children anymore. But I am so grateful for the gift of memory that allows us to revisit Christmasses past so that we can relive treasured times and those oh so scarce moments that remind us the true reason we celebrate anything at all this time of year.
Joy to the world! The Lord is come!
He's here.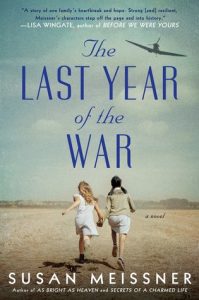 Fröhliche Weihnachten, friends!
Here on my blog I am giving away one early reader's copy of my soon-to-be-released novel (March 2019), THE LAST YEAR OF THE WAR, which incidentally takes place here in the States and in Germany, not very far from where I lived for a year and a half, You can be on the drawing for it by just saying hello here in the comments and on Dec 22, I'll have random.org choose a winner from those who  comment.
Do check out all the other blog posts below for chances to win fun stuff and for sure don't forget to click on the Rafflecopter for the BIG prizes! Thanks for stopping by…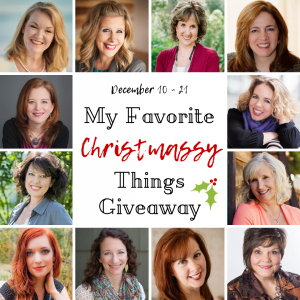 Dec 10: Catherine West – Welcome to My Favorite Christmassy Things
Dec 10: Cynthia Ruchti – My Favorite Christmas Tree
Dec 11:  Tamara Leigh – My Favorite Christmas Carol
Dec 12: Lauren K. Denton – My Favorite Christmas Disaster
Dec 13: Ronie Kendig – My Favorite Christmas Movie
Dec 14: Jody Hedlund – My Favorite Christmas Food
Dec 15: Elizabeth Byler Younts – My Favorite Christmas Ornament
Dec 16: Beth K. Vogt – My Favorite Christmas Decoration
Dec 17: Rachel Linden – My Favorite Christmas Service
Dec 18: Courtney Walsh – My Favorite Christmas Memory
Dec 19: Rachel Hauck – My Favorite Christmas Book
Dec 20: Susan Meissner – My Favorite Christmas Vacation
Dec 21: Catherine J. West – My Favorite Christmas Gift
Enter by midnight on 12/21/18 USA Eastern time! Winners will be drawn on 12/22/18 and posted on Catherine West's site.
Draw open to US addresses ONLY, with apologies to our international readers.
Major Prizes:
1st: All 12 Print Novels
2nd: $50 Amazon gift card and $20 Starbucks Gift Card
3rd: $50 Amazon gift card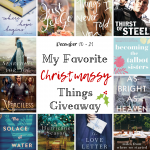 a Rafflecopter giveaway