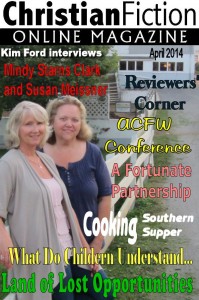 There's still lots of time to get in on the drawing for one of five copies of THE AMISH GROOM (click on the title to get to last Friday's blog post) but I thought I would post the link to the article in the Christian Fiction Online Magazine, which was just published this weekend. (The cover photo and the inside photo were both taken on Amish farms in Lancaster County on a research trip we took last summer).
Kim Ford, the interviewer, asked some great questions. Here is one that I answered:
Susan, this was your first work of Amish fiction. How did you learn about the Amish and their beliefs and culture? Given that you live in California, how were you able to bring the setting of Lancaster County alive in this story?

Me: I had very little familiarity with Amish culture when I began writing this book with Mindy, so I relied heavily on her vast knowledge and well-respected books and documentaries on the topic. Mindy and I also took a research trip to Lancaster County to prepare for writing the remaining books of the Men of Lancaster County series. We stayed at an Amish farm, ate meals in an Amish home, and talked to Amish people about their lives and culture.

I learned then what I have learned about any culture I have studied: People across the globe and across the centuries have different ways of living. But underneath the visual—including the clothing, whether it's broadfall pants with no zippers or board shorts and Vans—people have hearts that long for love, to give it and receive it. Take away what makes us different, and there's much that makes us the same.
Just click on the link below to read the rest of the interview! (And see you on Friday. I will be posting from the lovely Santa Cruz mountains as I will be teaching at Mount Hermon Christian Writers Conference. If you are going, make sure to find me and say hello!)
http://christianfictiononlinemagazine.com/best_interview.html