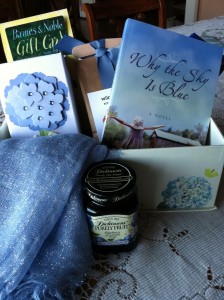 Did you ever want to get your hands on an out-of-print book AND help toward a great cause at the same time?? Of course you have! I have great news for you!  If you very much wish you could 1. get a signed copy of my very first book,  WHY THE SKY IS BLUE, now out of print, hard to find, and not yet available on e-book (I'm working on that…) and 2. help fund a much-needed mission trip to Malawi, keep reading.
I am giving away a lovely gift basket worth $75 and which includes a signed, first-edition copy of Why the Sky is Blue, while I help my youngest son, Eric, a sophomore at San Diego State University,  raise funds for a mission trip this July to Malawi.  Inside the basket are:
a signed copy of Why the Sky is Blue
a lovely powder-blue scarf
blueberry preserves
wildflower seeds
hydrangea scented luxury soap
Green and Blacks organic milk chocolate
a Barnes and Noble gift card worth $30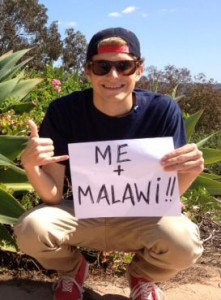 Cool, right? For every $25 you donate toward Eric's trip to Malawi, you get a chance to win this awesome basket of loveliness. Donate $25 and you get one chance; $100 and you get four chances. And of course any amount is helpful. Here's Eric in his own words regarding this mission trip:  "Recently, God has laid it on my heart to do something beyond myself and I believe He is guiding me to Malawi. There, my team and I will be hosting a three-day leadership conference at our sister church, Flood Malawi,  in order to educate, equip and empower the emerging generation of leaders so they can be active in their communities and help Malawi thrive."
It's super easy to give online. Flood Church has a donation page set up right here:  www.stayclassy.org/ericmeissner.
After you donate and get your receipt from Flood Church, just forward it to me and I will put you in the running. (send to susanlmeissner[at]cox[dot]net). Your receipt will be numbered in the order I receive it. I will run the drive through May 5, 2013 and then on Monday morning, May 6, I will let random.org pick a number.  Sorry to say this drawing is limited to U.S. residents.
And guess what?? There will be a door prize of  "A Window to the World," (my second book!) drawn from those who don't win the big prize but give $50 or more.
Your donation is tax deductible and the giving site is fully secure. You can check out Flood Church here.
Thanks for considering being a part of this and good luck!