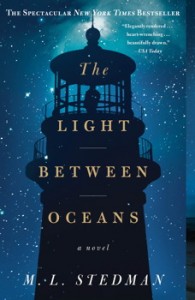 After four harrowing years on the Western Front, Tom Sherbourne, a kind but changed veteran of the Western Front, comes home to Australia and takes a job as the lighthouse keeper on a tiny and remote island, 100 miles from the coast. He brings with him his new bride, Isabel. Some years later, after miscarriages and a stillbirth, a very sad Isabel hears a baby's cry. A boat has washed up onshore. Inside are a dead man and a crying baby.
Tom, a rule-keeper and an honest man, wants to send word to the mainland but Isabel convinces him that God has brought this poor orphan to them. With milk still in her breasts from the birth of their stillborn baby, Isabel convinces Tom they are perfectly placed to care for this infant girl who would be just be an unloved ward of the state if they were to alert the authorities. They name her Lucy and begin to raise her as their own. When she is two, Tom and Isabel return to the mainland for a respite and to see their families. That trip will change everything. You can only live on an island where you are the only ones in the world for so long…
M. L. Stedman's book is called "mesmerizing, beautifully written," and I would have to agree.  In no time at all I was swept away into Isabel's flawed but understandable desires, Tom's unflagging love for his wife and yet his devotion to doing the right thing, and the other characters in the book who have a stake in what is to become of an innocent child. Sometimes there are no easy answers, even if love is at the heart of every nagging detail.
This is a book to keep you up at night, turning pages.