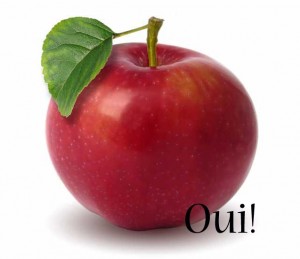 Once upon a time, my husband and I were in a little bistro in Brugges, Belgium. Our waiter kindly took pity on our very sad attempts to say anything in French to him and began speaking quite congenially in English. He helped us order from the all-French menu and then proceeded to help the next couple over who didn't speak French either. They spoke German. After very handily assisting them in their native language he looked up as a third couple walked into the bistro. They said "Good evening" or maybe it was "Have yourself a merry little Christmas" – we didn't really know. It was Dutch, we could tell that much. Our waiter switched to Dutch, seated them and then scurried into the kitchen to fetch us all water glasses.
So thoroughly impressed with his easy management of four languages I told him he should be working for the UN. He laughed, thinking I was making a funny joke. I was dead serious. He told me it's not so strange for Europeans to speak more than one language, especially if you serve the public. Then he told us a little joke. If you're trilingual, you speak three languages. If you're bilingual you speak two languages. What are you if you speak one language? The answer: American.
I took three years of Spanish in high school, but that didn't make me bilingual by a long shot. I admit I've been jealous of people who can have two or three languages spinning in their heads at all times. And I've lamented that there isn't the time nor the resources to change the fact that there is only one spinning in mine.  Rosetta Stone looks super cool, but it's a bit of an investment.
But Number Two son, Josh, recently found a language tutoring site that it completely free. He's been on it for a month and is learning three languages at once just because he can. Italian, French, and German. After much cajoling he set me up on Duolingo to learn French with him. It only takes a few minutes a day and again, it's free.
You can learn at your own pace but the program does send you an email reminder every day so that you don't forget. I highly recommend it.
And just for the record, I do know that I am not an apple.  I was just having some fun with you.  Je suis une femme.
Go for it.