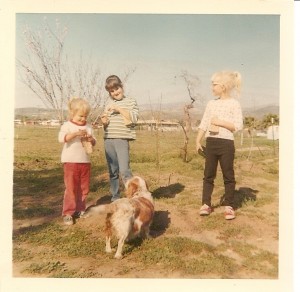 I couldn't pass up this opportunity to celebrate myself  (we affirmation-seeking, validation-starved middle borns have so few chances to do that, you know) and all middle children everywhere. At left is me (wearing the most awesome red tennis shoes in the history of red shoes), obviously contemplating my place in the family, as we MC so frequently do.
Not a believer in the DNA of birth order? I urge you to check out Dr. Kevin Leman's definitive book on the subject. It explains a lot, folks! And if nothing else, provides everyone of us who has been born (you heard me right) with all the excuses they will ever need for anything they will ever do, ever.
If you want a quick look-see into what researchers and psychologists say about birth order, here's a pretty succinct article on why you are you, from the perspective of your place in the family. Just like all generalities, there are always exceptions. I suppose there are perfectionist last-borns (though I don't know any) and clowny first-borns (ditto). But I have found that these researchers are more often hitting the nail on the head.
So, reader, take a look at the characteristics of your birth placement listed on the linked article and let me know what you think. Yay or nay?
And of course, tell me where you fit in the fam!