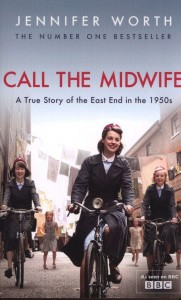 A good friend of mine told me not long ago that she'd stumbled upon the British TV show CALL THE MIDWIFE while on Netflix. She added the first season to her queue of choices she could watch right away on streaming and settled down to view the first episode. She was quickly hooked, watched more, and then told me about it., knowing I'm a history junkie. The same thing that happened to her, happened to me. I fell in love with these characters, the post WW2 setting, the costumes, the music, everything about it.
The series is based on the memoirs of Jennifer Worth and is set in east London in the later 1950s. The first series of six episodes premiered in the UK in January 2012. The series pilot begins with newly-trained midwife Jenny Lee arriving to work among other midwives and the nuns of Nonnatus House, an Anglican nursing convent. The young midwives and the sisters must cope with the many problems among the East End's desperately poor , and of course they have their own fears, hopes, and dreams.
I finished watching Season 1 last night and am eager to begin Season 2. In the meantime, I can't follow the series on Facebook or Twitter for fear I will learn something ahead of when I should learn it. Even gathering this photo above and the video below put me on edge as I trolled the Internet for them! The preview below introduces you to Jenny, and you can see a bit of her wonderfully detail-rich character.  If you're already a fan of the show, I would love to hear your comments about the series, without of course, revealing anything about seasons 2 and 3! If you've not seen it yet, I highly recommend you add to your Netflix library.