I am one of those Yanks who is addicted to Britain's Downton Abbey drama series now in its third season and so naturally I was one of the many who has anxiously been awaiting the wedding of Lady Mary and the Ashley-Wilkeslike Matthew. The episode where these two finally marry aired last Sunday here in the States and since it took two years for them to get to the altar, I and the other Abbicts were on the edge of our seats waiting for it.
The wedding itself lasted only 30 seconds (I would've at least included a vow or two and some cake) but the larger letdown for me was the wedding dress itself. Lady Mary (played by lovely  Michelle Dockery) is a porcelain-skinned, statuesque, lithe brunette whose wardrobe  of nightly dinner dresses are fashion statements unto themselves. Those supper frocks had me thinking the dress would be stellar. It was – how shall I say this? – rather boring and understated. And while I am sure it was true to the times (the series is expertly produced), it's not the dress I would've thought this character would've chosen. (I did and do love the tiara and veil, jsyk)
I did a little sleuthing on Google to see if there's a 1920's dress out there in the photo archives I like better since I know it's not nice to complain about something without offering a solution. I came across this video which I place here for your amusement, education and opinion. If you see one here you like better, I'd like to hear which one it is. And if you'd like to comment on the ones you don't like, or that make you laugh, or that make you ponder what on earth were they thinking, that would be nice too.
I am particularly interested in your views on the hats and veils. I will reserve my own comments on the chef hats until you've had a chance to weigh in.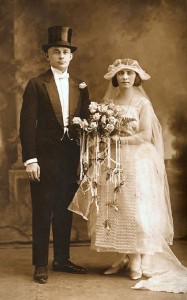 This photo at left is not pictured in the video (at least I don't think I saw it there) but here's an example of a dress that is definitely NOT an improvement on Lady Mary's curtain, I mean, wedding gown. And just in case you want a little more fodder for your thoughts, I posted a comment early this week on my Facebook Author page and asked for comments. You can catch that conversation here. I am beginning to think wedding fashions were in a state of coma in the early 1920s.
And lastly, this entire conversation reminds me of a character I invented a few years back named Daisy, a jilted bride who owned a used wedding dress shop and who loved to critique other women's gowns . . . You can read Blue Heart Blessed on your e-Reader.
So, tell me what you think…