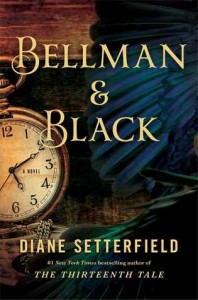 I remember reading once that Harper Lee didn't write another novel after To Kill a Mockingbird because she knew readers would expect too much with a second book and that kind of pressure was wholly unattractive. Perhaps Margaret Mitchell felt the same way after Gone With the Wind. We readers can be heartless in our desire to be wooed and won at a more breath-taking level than the book before.
Some years ago I read, nay, devoured Diane Setterfield's The Thirteenth Tale. I told every one I knew who loved fiction to read it, it was such a well-written, captivating tale. I read the book a second time for book club, and then a third time to just study the craft of having a young, idealistic protagonist cross paths with a much older realist; a pairing I wanted for The Shape of Mercy which I wrote in 2007.
I waited and waited for Ms. Setterfield to write a second book, and while I read many other novels in the interim, The Thirteenth Tale remained in my perennial  top five. When people would ask me to recommend a book in those in-between years, I would invariably ask, "Have you read The Thirteenth Tale?" and if they hadn't, I would tell them that was the book they needed to read next.
So when I learned that, after eight years,  a new Setterfield book was on the horizon, I gleefully pre-ordered it – months before it was to hit bookstore shelves- and counted the days. Bellman & Black arrived on my doorstep in all its hardback beauty two days after its release. I had to finish another book I was reading and I itched to be done so that I could crack open the Setterfieldian pages and consume them.
I finished the book last night.  I can only say that I wanted so very much to be transported to another place with the story, just as I had been before. My expectations were high, perhaps illogically so. Perhaps with The Thirteenth Tale it was the writer's story, not the story's writer that so captivated me before. Perhaps it was something unique about me that made The Thirteenth Tale resonate within me, rather than something unique about its author.  The prose in Bellman & Black was lovely, Setterfield is still a master, but I never left the room while reading her second book. And I wanted to. Too much so. I wanted to be transported. I was not.
Perhaps I need to book-club this one to appreciate it properly. Sometimes it's only after I've discussed a book with people that I realize what I missed. Some reader reviewers have said Bellman & Black is too dark; but so was The Thirteenth Tale, so I don't think for me, that it was because there wasn't enough light. As a novelist myself I know that in every great story, the main character has to be on a quest, a pursuit to have something he doesn't have, and he has to overcome recognizable and somewhat relatable obstacles to get it. Doesn't matter if you are reading Green Eggs and Ham or The Silence of the the Lambs. The protagonist, flawed but likeable, must want something and must overcome opposition to get it. What the character wants must be something we readers understand and WANT them to want. Their opposition must also be understood and recognizable. This is how we become emotionally invested. This is what keeps us turning pages. This is what transports us. The clash of the quest and the character and the conflict must captivate us.
Otherwise you just have words on a page. They can be great words, skillfully placed. But unless they transport, they remain words.
Not a ticket.
Will I read Setterfield again? Absolutely. This one just wasn't the trip for me.