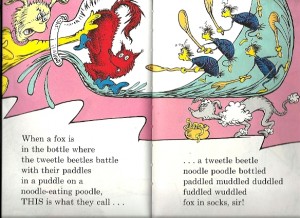 Every March 2, when Theodore Geisel's birthday rolls around, we who grew up reading Dr. Seuss and who nourished our children on his stories get a little nostalgic. We suddenly want a Red Fish, Blue Fish fix or Hop on Pop, or – dare I say it – a little Fox in Socks. (Oh, how I remember my kiddos asking for Fox in Socks at bedtime after a long, hard day and, knowing I would never get through all the tongue-twisters, asking them if they wouldn't rather have me read Are You My Mother? instead.)
We couldn't keep all the books our kids had on their bookshelves when they were little, but we did hang onto all the Seuessian books. We hoped there would be a time when we would have grandkids and they would be at our house and we'd want there to be books for them to read or have read to them. Now that we are expecting our first grandchild in June, I see I must unearth Fox in Socks and get back to speed on the oral delivery of its pages.
In honor of the good doctor's birthday, and to celebrate the recent announcement of a forthcoming Seuss book What Pet Should I Get, Barnes and Noble came up with a fitting hypothetical question: what if Dr. Seuss wrote the plots for other famous books? The first three are:
A Song of Ice and Fire series, by George R.R. Martin
One king, two king. Dead king, who king?
The Catcher in the Rye, by J.D. Salinger
He has brains in his head. He has feet in his shoes. But the ducks just keep flying wherever they choose.
The Twilight series, by Stephenie Meyers
When you're in a slump, you're not in for much fun. Un-slumping yourself requires sparkling in the sun.
You can find all the rest here:
How about you? Could you Seussify the plot of a famous book? Here's my stab at it:
Gone With the Wind: The wind can take a lot of things, naivete and plantation kings…
Now you try!