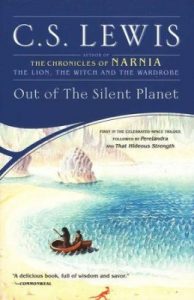 I can't begin this August 3 Friday reads round-up without mentioning that it's my husband Bob's birthday today (pictured above). I've known him since I was 16, and I'm not even kidding when I say one of the things I liked about him way back then was that he read good books.  Over the course of our dating life, we read lots of books together, including this one at left, OUT OF THE SILENT PLANET by C. S. Lewis. (This is the first in Lewis's space trilogy; we also read two and three together in our pre-marriage days).  If you're unfamiliar with this one, the story is about Dr. Ransom,  a Cambridge academic, who is abducted by a megalomaniac physicist and his accomplice and taken via spaceship to the red planet of Malacandra, aka Mars. "His captors are plotting to plunder the planet's treasures and plan to offer Ransom as a sacrifice to the creatures who live there. Ransom discovers he has come from the 'silent planet' – Earth – whose tragic story is known throughout the universe." Ransom eludes his captors, risking his chances of returning to Earth, and becoming a stranger in a land that is enchanting in its difference from Earth but also instructive in its similarity. It's speculative fiction at its finest, and not really about space travel at all, really. Lewis, well known for his deep thoughts on philosophy and religion, offers keen insights into the human condition in this novel. Not your typical date book, I guess. But I feel in love with the guy who read this book aloud to me when I was 17. Happy birthday, cutie. P.S. We were just talking about this book last night over dinner with a friend and we all decided to read it again and then get together and chat about it. Interestingly enough, Mars, which is as bright as it has been in our sky in 15 years, was shining down on us like a little scarlet diamond as we ate supper, sipped a nice Syrah and talked about books…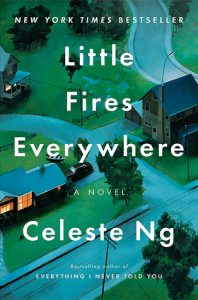 I usually have one audio book going on in my life, and until recently I was checking out books on CD from my library. I would listen to a book whenever I got into my car, no matter if it was a short trip or long trip I was headed out on. Audio books made any commute – even the worst, rush-hour one – a happy time. But we got a new car a little while back and it doesn't have a CD player (that's just how all new cars are nowadays). What it does have, though, is a little onboard computer and a USB port so that my phone can become the computer. Which means I can have Audible on my phone now, which I do, and the car can read the book to me.  So there's always a physical book on the nightstand and an audio book in the car and I like it that way. Okay, so yes,  the audio book is on my phone which goes everywhere I go, but I save that audio book for car rides. So every trip to anywhere is, before it is anything else, a dip into that book. All that to say, in my car, I am listening to Celeste Ng's LITTLE FIRES EVERYWHERE.  I have heard nothing but great things about this book, which is a bestseller all over the place and a 2017 Goodreads Choice Award winner. It's about single mother and artist, Mia, who rents a house from the Richardson family. Soon Mia and her teenage daughter Pearl become more than just tenants: all four Richardson young adult kids are drawn to the mother-daughter pair. But as the back cover copy says, "Mia carries with her a mysterious past, and a disregard for the rules that threatens to upend this carefully ordered community." When  Mia and Mrs. Richardson take opposing sides on an issue, Elena Richardson becomes determined to uncover the secrets in Mia's past, and her obsession will come at unexpected and devastating costs to her own family – and Mia's." I am enjoying the book very much (although if I'm being honest, and why wouldn't I be, the narrator is not quite who I would have chosen) and I'm finding myself looking for reasons to get in the car and go somewhere.  Goodreads says this story "explores the weight of long-held secrets and the ferocious pull of motherhood-and the danger of believing that planning and following the rules can avert disaster, or heartbreak." More on this book when I finish.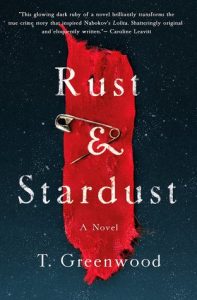 Lastly, fellow San Diegan, writer extraordinaire, and my friend, T. Greenwood, has a new book coming out on Tuesday. It's her first hardcover. Tammy is a talented wordsmith and I'm sure the difficult subject matter in RUST & STARDUST will be made more bearable by her exquisite prose. Here's how Goodreads describes it:  "When 11 year-old Sally Horner steals a notebook from the local Woolworth's, she has no way of knowing that 52 year-old Frank LaSalle, fresh out of prison, is watching her, preparing to make his move. Accosting her outside the store, Frank convinces Sally that he's an FBI agent who can have her arrested in a minute—unless she does as he says. This chilling novel traces the next two harrowing years as Frank mentally and physically assaults Sally while the two of them travel westward from Camden to San Jose, forever altering not only her life, but the lives of her family, friends, and those she meets along the way." I'm thinking we will need the Kleenex for this one. One reviewer said, "This was an extremely heartbreaking story of loss and abuse, but also a wonderfully written account of the true-crime that inspired the novel LOLITA."
There you have it. Hope your weekend is brimming with books to be read! Or listened to.  Have a good one.