Seems like I spend a lot of blog time (or a little, depending on how you look at it) apologizing for not spending time on the blog. Surely you know that saying, "Time flies." This is what we say when the reality of something we meant to do and haven't done comes crashing in on top of us and we can't come up with a good excuse other than it's the fault of time! Ha!
Well today, in addition to my sheepish "How did that month go by so fast?" I've got some books to give away; a nice little trio of novels that I was privileged to read before they were published so as to provide an endorsement. A thank-you copy of the book in its final, release-day form is always sent and I am realizing I need to pass along books I've already read for two reasons: One, they deserve to be read, not just sit on my crowded shelves. Two: I've got crowded shelves.
So, one lucky commenter, drawn by random.org, will be the winner of these books, all of which I was happy to write blurbs for.  All you need to do is comment below by next Thursday, noon PST, so that I can announce a winner a week from today in a rare moment when I actually remember it's Friday and I need to feed the blog.  Here's a little it about each one: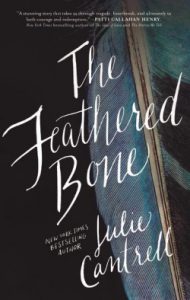 THE FEATHERED BONE by Julie Cantrell is a tear-jerker to be sure, but it's masterfully written. Julie's the New York Times bestselling author of INTO THE FREE, which came out a few years ago and won all kinds of awards. Not only is Julie a powerful wordsmith, she's one of the nicest people on the planet. This story takes the reader to pre-Katrina New Orleans in the point-of-view of a mother on a school field trip where her daughter's best friend goes missing. As the search continues for this girl, the storm that changed the way we all think about hurricanes slams into the South. The back cover says, "Set amidst the murky parishes of rural Louisiana and told through the eyes of two women who confront the darkest corners of humanity with quiet and unbreakable faith, The Feathered Bone is Julie Cantrell's master portrait of love in a fallen world."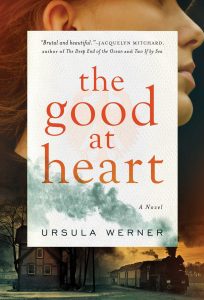 THE GOOD AT HEART by Ursula Werner is a WW2 novel that gets its title from one of Holocaust victim Anne Frank's most memorable lines from her diary: "In spite of everything I still believe that people are really good at heart." If you've ever wondered what it must have been like for German civilians torn between love for their country and doing what is right, here's a story that imagines such a moral dilemma for one family. This novel is based on Ursula's discoveries about her own great-grandfather. It's part love story, part suspense, and part family saga. I said of it in my blurb on the back cover, "…a compelling tale of ordinary people living in extraordinarily complex and character-defining times. Poignant and moving…"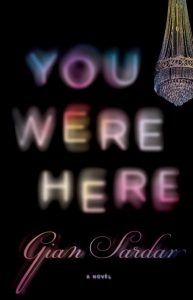 YOU WERE HERE by Gian Sardar is a debut novel full of intrigue and delicious suspense. It's a dual time-periods tale with an "ill-fated love triangle in the past and a horrifying crime in the present." It's the kind of book with twists and turns and that sense of deja vu that reminds one of not just, "I've been here before," but "I've been here before and something bad happened." One endorser wrote, "A nail-biting thriller, a tragic love story from the past, a very contemporary romance, a genuinely scary ghost story with a full-out gothic finale that would make Edgar Allan Poe sit up and applaud…Completely original and relentlessly engaging."
So there you have it! Just say hello below or scold me for being such a stingy blogger or tell me what you've been reading and you're in the drawing. Have a great weekend, folks. May it be filled with books and sunshine and happy thoughts.