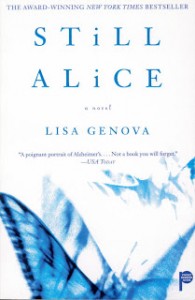 I, like perhaps many others, have a mental list of a few of the ways I don't want to Go Out.
I don't want to be eaten by a shark. I don't want to be inside a burning house. I don't want to be buried in alive. I don't want to drown. And I don't want to slowly disappear courtesy of Alzheimer's.
I really am not afraid of death, it's the dying part that scares me. And to have my mortal life taken from me as slowly as Alzheimer's does it? That is something I hope is not in my future.   Even so, I do recommend Lisa Genova's stunning novel, STILL ALICE, about a brilliant university professor who is diagnosed with this disease. The story reads like the woman's memoir; as if you are right there inside a mind that is slowly erasing itself.
The book is also being made into a movie with Julianne Moore staring in the title role. Filming began just a few months ago so the release is a ways off yet, but I am looking forward to seeing it, even though it will surely have a Jaws-like effect on me. If you've seen the movie Jaws – and really, who hasn't? – then you will know what I mean about seeing a movie and wanting that to never, ever to happen to you.
Interestingly enough, Lisa is a Harvard-trained neuroscientist, not a writer. She self-pubbed STILL ALICE and  sold it out of the trunk of her car for almost a year before it was bought at auction by Simon & Schuster. It has gone on to win the 2008 Bronte Prize, was nominated for 2010 Indies Choice Debut Book of the Year, and spent over 40 weeks on the New York Times bestseller list. It has been translated into 25 languages. That it resonates with people is an understatement. None of us wants to feel ourselves being subtracted from life bit by agonizing bit.
Two of my favorite parts:
"You're so beautiful," said Alice. "I'm afraid of looking at you and not knowing who you are."
"I think that even if you don't know who I am someday, you'll still know that I love you."
"What if I see you, and I don't know that you're my daughter, and I don't know that you love me?"
"Then, I'll tell you that I do, and you'll believe me."

***

"I have no control over which yesterdays I keep and which ones get deleted. This disease will not be bargained with. I can't offer it the names of the US presidents in exchange for the names of my children. I can't give it the names of state capitals and keep the memories of my husband.
…My yesterdays are disappearing, and my tomorrows are uncertain, so what do I live for? I live for each day. I live in the moment. Some tomorrow soon, I'll forget that I stood before you and gave this speech. But just because I'll forget it some tomorrow doesn't mean that I didn't live every second of it today. I will forget today, but that doesn't mean that today doesn't matter."
This book will make you fall to your knees in gratitude that you can remember the why of everything that matters to you.