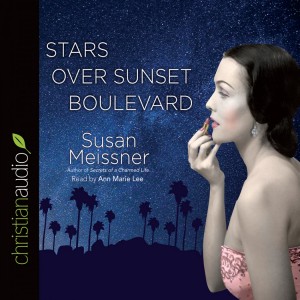 One of the great things about having different platforms on which to enjoy a book is that you don't have to necessarily be sitting down in an armchair with a cuppa to read it – although few activities are more enjoyable than that. With an audio version of a book, you can enjoy a novel from the comfort of your car while on your morning or evening commute, or while you are jogging, or while you are waiting for something to start and it's going to be awhile.
I love having my novels available to you on audio files. For some of you busy people, it's often the only way you can get a book a "read." For those with vision limitations it IS the only way you'll get a book read unless someone reads it to you.
With that in mind, I am happy to announce I've got giveaway coupons for five individual downloads of STARS OVER SUNSET BOULEVARD, courtesy of my audio publisher, Christian Audio. Christian Audio's got a classy and delish cover for the audio version and I'm thrilled that they contract with the best narrators out there.
If you end up being a winner all you will have to do is go to christianaudio.com, add STARS OVER SUNSET BOULEVARD to your cart and checkout with the coupon code. To get in on the drawing, just type in a comment below. Any comment will do. Tell a joke, tell me your favorite old Hollywood movie, tell me your dog's name. Just tell me something and you're in. Five code winners will be drawn at random after 5 p.m. PST on Saturday, March 26. You can win the coupon code and give it someone else, say a visually impaired friend or someone who spends a lot of time on the road.
And while you're checking out Christian Audio's site, take a listen to the audio interview we did together a few months ago. That link is right here:
As always, thanks for stopping by and good luck!