To mark the release of A FALL OF MARIGOLDS this month, I am happy to welcome writer friends to the blog to share with you a story about a family heirloom that is precious to them. An heirloom scarf is what ties two women together in A FALL OF MARIGOLDS, and heirlooms are what tie these blog posts together. At the end of the month, there will be a fun giveaway. Enjoy!
Today I'm happy to welcome Yona Zeldis McDonough to the blog today. Yona is the author of five novels, including Two of a Kind.  Her sixth, You Were Meant for Me, will release from New American Library in October 2014.  She is also the author of 21 books for children and her fiction, essays and articles have been widely published in many national and literary magazines.  She lives in Brooklyn, New York with her husband, children, two yappy dogs—and five silver soupspoons tucked safely in a drawer. Read to the end to see how you can win a signed copy of Two of a Kind.
"The only things to have survived…"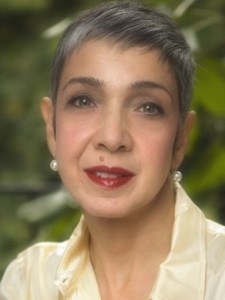 One of my most precious heirlooms is a set of five silver soupspoons. They came from the house of my maternal grandmother, Tania Guttmann. Tania was born around 1909 in Ekaterinaslav, a city in Russia. Her mother, Miriam, was almost biblical in her fertility—she had 22 children; Tania, the second to youngest, was born when her mother was 52 and her youngest sister was born when their mother was 54.
Tania's father was a tanner, a profession that was considered repugnant—and therefore a profession permitted to Jews.  It was also very lucrative, and so unlike many Russian Jews of her generation, my grandmother grew up in a very fine house with parquet floors, velvet drapes and crystal chandeliers.  She and her sisters were given dancing lessons and the older girls played the piano. The boys went to a prestigious military academy.   They spoke Russian at home, not Yiddish.
But then her father went on a business trip and did not return.  Anxiously, her mother awaited word from him. It never came. Instead, she received a gruesome parcel: his dead body in a canvas mail sack.  The body had been found on the railroad tracks; it was presumed that he had been murdered. Since his papers and prayer shawl identified him as Jewish, it seemed likely that other Jews, correctly surmising that someone would be worried about him, sent the body back.
Miriam's response to this horror was to drink poison; my grandmother once told me that she still remembered the burns at the edges of her mother's mouth.  But Miriam did not die; she rallied and decided to flee the country, now in the throes of its bloody revolution, with her five youngest children. She put mattresses in the windows to deflect the rock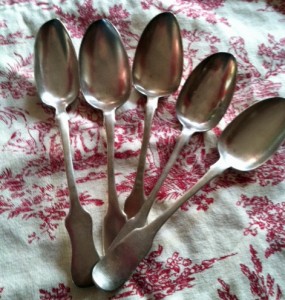 s and bricks that were frequently lobbed through them and she went out, day after day, to sell what she could: jewelry, dishes, silver. Tania and her sister were left alone, waiting for their mother to come back.  They were cold and hungry.  Her sister would ask, "Where's Mama?" and Tania said, "She's coming soon."
Miriam was able to put together enough money for the tickets and she and her children went first to Riga, and then ultimately to America.  For some reason, she did not sell those five silver spoons, but gave them to Tania, who gave them to my mother, who gave them to me.  They are lovely spoons, simple, yet elegant and they have a pleasing heft in the hand.  Tania lived to be 94 and those spoons were the only things to have survived from that house, that country, that life.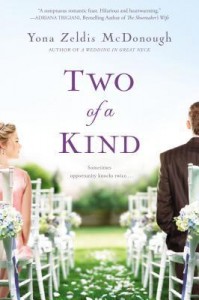 I have long believed in the talismanic power of objects and these spoons are for me, very potent symbols.  And in my novel, Two of a Kind, my protagonist Christina Connelly shares my belief about objects—she is an interior designer and deals in antiques as well.  There is a pivotal scene in the book that centers on a silver candlestick and although a candlestick is not the same as five spoons it was those spoons that led me to write that scene. I will keep them until it is time to hand them down to my own young daughter.
Connect with Yona on her website , Facebook or Twitter : @YonaZMcDonough.
Thanks, Yona, for sharing such a moving story about your grandmother and great-grandmother.  You can be in on the drawing for Yona's newest book, Two of A Kind, by commenting below, even if it's just to say hello! But if by chance you have a family heirloom that has a difficult journey or situation attached to it, I'd love to hear it. Post your comment here by noon Pacific on Feb 17 and your name's in the hat. Good luck!