It has been so DANG hot here in San Diego; many days near 100 degrees or just above it, coupled with humidity that we simply aren't used to (yes, we SoCals be humidity wimps) that autumn can't get here fast enough. Usually I cringe a little when I walk into Michael's in August and the front display is all decked out in fall decor, but not this time. Come, gentle Autumn and all things pumpkin spice. We are ready for your cool breezes and chilly nights.
My good friend Anne Bogel, also known as Modern Mrs. Darcy, has compiled a list of all the BOOKS we can look forward to when fall finally gets here (hers is among them) and I'm highlighting a few that I am especially eager to get my hands on. Anne's book on books (photo is above) reminds us that "our books shape us, define us, enchant us, and even sometimes infuriate us. Our books are a part of who we are as people, and we can't imagine life without them. I'd Rather Be Reading lead us "to remember the book that first hooked us, the place where we first fell in love with reading, and all of the moments afterward that helped make us the reader we are today." (There are so many books that hooked me as a young reader, but some post soon I will share one that I remember so very fondly decades after reading it.)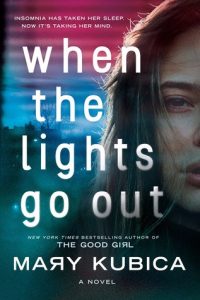 On Anne's fall list (and also on mine) is Mary Kubica's When the Lights Go Out. Mary is a such great writer and one of the nicest people I know. She's coming to San Diego in October for a fundraiser for an organization I volunteer for, Words Alive, and I am hoping when they start selling individual tickets there will still be a couple for my mom and me to buy.  Here's what Goodreads says about this newest by Mary:
"A woman is forced to question her own identity in this riveting and emotionally charged thriller by the blockbuster bestselling author of The Good Girl.Jessie Sloane is on the path to rebuilding her life after years of caring for her ailing mother. She rents a new apartment and applies for college. But when the college informs her that her social security number has raised a red flag, Jessie discovers a shocking detail that causes her to doubt everything she's ever known. Finding herself suddenly at the center of a bizarre mystery, Jessie tumbles down a rabbit hole, which is only exacerbated by grief and a relentless lack of sleep. As days pass and the insomnia worsens, it plays with Jessie's mind. Her judgment is blurred, her thoughts are hampered by fatigue. Jessie begins to see things until she can no longer tell the difference between what's real and what she's only imagined. Meanwhile, twenty years earlier and two hundred and fifty miles away, another woman's split-second decision may hold the key to Jessie's secret past. Has Jessie's whole life been a lie or have her delusions gotten the best of her?"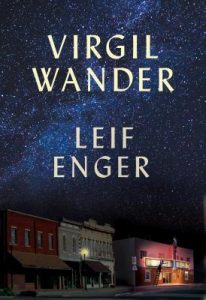 Coming in October is Virgil Wander by Leif Enger, whose Peace Like a River I recommended to everyone (and I mean everyone!) I knew a decade ago when I read it the first time. I actually highlighted Peace Like a River, as though it were a textbook for a college class. The prose was that delicious. Here's what the publisher says about this new one by Enger: "Midwestern movie house owner Virgil Wander is 'cruising along at medium altitude' when his car flies off the road into icy Lake Superior. Virgil survives but his language and memory are altered and he emerges into a world no longer familiar to him. Awakening in this new life, Virgil begins to piece together his personal history and the lore of his broken town, with the help of a cast of affable and curious locals. Into this community returns a shimmering prodigal son who may hold the key to reviving their town. With intelligent humor and captivating whimsy, Leif Enger conjures a remarkable portrait of a region and its residents. Carried aloft by quotidian pleasures including movies, fishing, necking in parked cars, playing baseball and falling in love." Suffice it to say, I want this one TODAY, sweat and humidity and sizzling hot car notwithstanding.
Also on my radar for fall books is Diane Chamberlain's newest, The Dream Daughter: Anne said: "Chamberlain is known for writing contemporary Southern fiction featuring strong female characters and not shying away from sensitive subjects. Without giving away too much: her next book is about the lengths a mother will go to to save her unborn child. The doctors have told her she will be born with a fatal heart defect, and in 1970, nothing further can be done. But her mysterious physicist brother-in-law has an idea. Time travel may be involved…"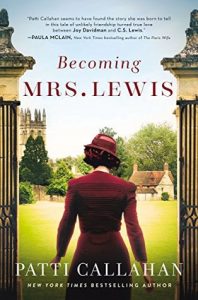 I'll close here with an autumn treat I'm eagerly anticipating. Becoming Mrs. Lewis, by sweet Patti Callahan is a new retelling of the improbable love story of Oxford theologian C. S. Lewis (whose books I love) and the American divorcee he married so that she could remain in the UK. I've loved this love story and I thought the screen adaptation Shadowlands with Anthony Hopkins and Debra Winger was so well done. The publisher describes Patti's new book this way. "When poet and writer Joy Davidman began writing letters to C. S. Lewis—known as Jack—she was looking for spiritual answers, not love. Love, after all, wasn't holding together her crumbling marriage. Everything about New Yorker Joy seemed ill-matched for an Oxford don and the beloved writer of Narnia, yet their minds bonded over their letters. Embarking on the adventure of her life, Joy traveled from America to England and back again, facing heartbreak and poverty, discovering friendship and faith, and against all odds, finding a love that even the threat of death couldn't destroy. Joy lived at a time when women weren't meant to have a voice—and yet her love for Jack gave them both voices they didn't know they had." Available Oct 2!
See how nicely fall is shaping up for me? Surely it is for you and your reading life as well. Which autumn books are you looking forward to? Do tell.