W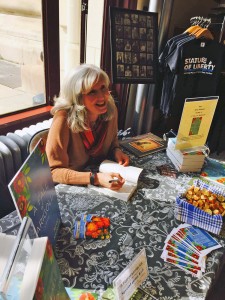 hen A Fall of Marigolds – a novel set primarily on Ellis Island in 1911 – was published two years ago, I daydreamed of signing this book at the bookstore in the main immigration building someday. I didn't know if the opportunity would ever present itself but I remained optimistically hopeful. Well, as if often the case, that optimism paid off. Last Saturday I spent a wonderful five-hour stretch signing A Fall of Marigolds at Ellis Island, with all the proceeds from the sale of the book going to the Save Ellis Island campaign to restore the hospital buildings.
The Save Ellis Island staff who prepared a table for me and chatted up A Fall of Marigolds to bookstore customers and to hospital tour attendees, were so very kind and welcoming. The hours just flew by. And the best part was playing a small role in the effort to raise awareness for the plight of these historic buildings. If read A Fall of Marigolds, you will remember that Clara's story takes place largely in the Contagious Wards of Ellis Island Hospital in 1911. Those hospital buildings — and there are many — will continue to rumble into ruin without intervention. Save Ellis Island exists to spearhead the restoration effort to keep that from happening.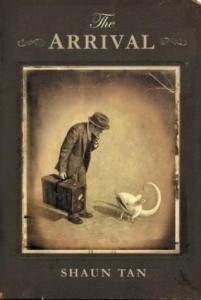 While I was there, the event planner, a wonderful gal named Jessica, showed me a book that is a recent add to the bookstore inventory. The outside cover drew me at once and then I opened the pages and fell in. The Arrival by Shaun Tan is not like any other book that explores what it was like for immigrants to forever leave all that was familiar to come to a land of supreme unfamiliarity. There are no words in this book, only masterfully done sketches. It's truly a graphic novel, in every sense of the word.
Here's the description of this book from the publisher, because it so aptly describes this book:
"In a heartbreaking parting, a man gives his wife and daughter a last kiss and boards a steamship to cross the ocean. He's embarking on the most painful yet important journey of his life- he's leaving home to build a better future for his family. Shaun Tan evokes universal aspects of an immigrant's experience through a singular work of the imagination. He does so using brilliantly clear and mesmerizing images. Because the main character can't communicate in words, the book forgoes them too. But while the reader experiences the main character's isolation, he also shares his ultimate joy."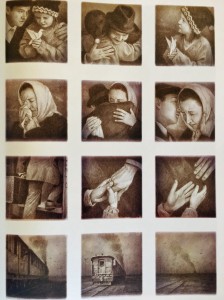 It's a book to ponder slowly because the story is one to be discovered not one to be fed to you. If you've wondered what would it be like to strike out for a new and foreign horizon where the only certainty is your desire to go, this is the book that will show you, in heart-tugging detail, what you give up, what is handed to you, what you must chase after to do it. Highly recommend it.
Have you been to Ellis Island? Any of your relatives come through there? Did they share any stories with you? Share away…