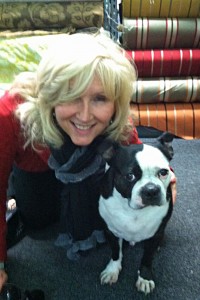 Last night was the premier of the eleventh season of Project Runway. I have watched every season since the show's inception, plus the two PR All Stars, so naturally I watched it. Looked forward to watching it, actually. Project Runway is one of the reasons I like Thursdays. I am drawn to it like other people I know are drawn to The Bachelor (never seen it) or The Amazing Race (never seen it) or Extreme Home Makeover (saw one episode, didn't care for the scripted schmaltz) or Dancing with the Stars (yawn). On a recent research trip to Manhattan I purposely went to Mood Designer Fabrics just to run up those stairs the designers run up and walk the aisles of silks and chiffons and pat Swatch, the store's adorable mascot.
The weird thing is, I barely sew. And I certainly can't design a look or even conceptualize one.  I can't make a pattern out of muslin or tape a mannequin or sketch or imagine a dress out of thin air or do any of the things these contestants do. I can, on the other hand, cook and create a menu out of nothing, which explains why Tuesdays are more fun because Chopped airs on the Food Network. I can think of no reason why I love Project Runway. Is there some latent designer talent buried inside me? Do I have what those PR contestants have, only it's exponentially underdeveloped? I had to find out.  I shall sketch something, I said. So I did. Here it is: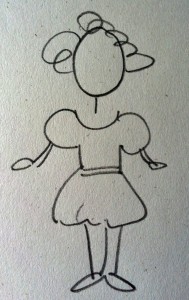 Okay, so I am kidding. But not really. This is actually the best I can do. I know it is because I tried to imagine a jacket with an oversized collar, three-quarter-inch sleeves (slightly cuffed), and sporting a bit of a peplum, and paired it with calf-length tapered pants with just a hint of a pleat at the waist to make them look like an echo of a man's trouser. I pictured the smart suit in a yummy plum color. I can't even show you that attempt. Train wrecks are NOT suitable for viewing.  So then I attempted something less tailored. A dressy gown with a fun ruffly thing at the neck and an asymmetrical hemline, tea length. That monstrosity I will show you.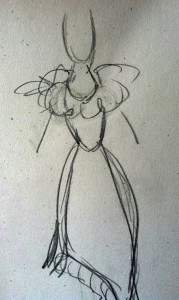 Pathetic, right? Kind of reminds you  of the tattered sheath Cinderella was left with after the evil stepsisters had their way. You know the one…
So where does this fascination come from then? I honestly can't explain it. What draws me to the talents of others which I assuredly don't possess?
Let's say for a moment that I enroll in a sketching class and am somehow able to learn how to draw.  Were I given a challenge to invent a  fashion themed after New York  (last night's challenge),  a vast emptiness would invade my brain. I could write a short story, no problem. But invent a look and then (gasp of all gasps!) actually sew the thing? In a day? And have it look nice? Not even if my life depended on it could I make it work…
And the really weird thing? I wouldn't really want to. Gah! What does it mean?
It boggles. So tell me, kind reader. Why do you think we are often drawn to something which defies explanation? Or am I the only one?