Welcome to the Christian Fiction Scavenger Hunt! I am a part of TEAM PURPLE, and this is Stop #14. If you're just joining us, there are two loops—pink and purple—and they begin at Lisa Bergren's site and Robin Hatcher's site for stop #1 for either stream. If you complete either the pink loop or purple loop, you can enter for a Kindle paperwhite and the 17 autographed books from that loop. If you complete BOTH loops, you can enter for the Grand Prize of a Kindle Fire HDX and ALL 34 autographed books. If you get lost along the way, here's the place to get back on track.
BE SURE to keep track of the clues at the bottom of every post in the loop and the favorite number mentioned. You'll need those clues to enter for the loop prize and every number mentioned in order to enter for the grand prize. The Hunt begins at NOON Mountain time on April 16 and ends at midnight Mountain on April 19, 2015, so you have a long weekend to complete all 32 stops and maximize your chances at prizes!
ALSO, please don't use Internet Explorer to navigate through the loops. Some web sites won't show up using IE. For a less stressful hunt, do use Chrome or Firefox! (Read to the end for a special giveaway only on my site!)
Without further ado, it's my pleasure to introduce you to my guest for the Scavenger Hunt, Beth Vogt.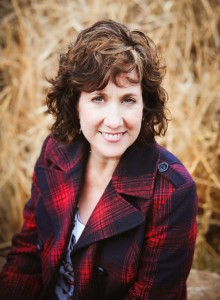 Here's her professional bio: Beth K. Vogt believes God's best often waits behind the doors marked "Never." A 2014 Carol Award finalist, her novel, Somebody Like You, was one of Publisher's Weekly's Best Books of 2014. You can connect with Beth at bethvogt.com or on Twitter, Facebook, or Instagram.
Here's the summary of her latest book, CRAZY LITTLE THING CALLED LOVE: Paramedic Vanessa Hollister has put her adolescence behind her, including the unwanted label of being the new kid in town over and over again, thanks to her father's military career. She's overcome what her mother called "the biggest mistake of her life" and is planning an elegant destination wedding in Destin, Florida with her new fiancé. But will the reappearance of her first husband from her what-were-you-thinking teenage elopement disrupt her dream of an idyllic beach wedding? As a professional storm chaser, Logan Hollister is used to taking risks. However, a reckless decision during the last tornado season has him questioning the future of his team, the Stormmeisters. Coming face to face with his ex-wife eight years after their divorce compels him to confront his greatest regret: losing Vanessa. Does their past give him the right to interfere with her future?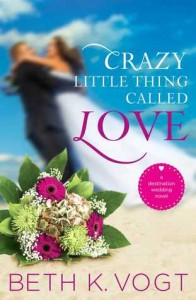 A fast-moving, powerful hurricane throws Vanessa and Logan together as they evacuate to a storm shelter along with other residents of the Florida Gulf Coast. Forced to spend time together, the pair battles unexpected renewed feelings for each other.
And here's her EXCLUSIVE content, that you'll only find in this hunt!
When my husband Rob and I got married, the idea of a destination wedding never occurred to me. Eloping, yes – but only for the briefest of moments. When we mentioned the idea to Rob's best friend, he said he would tell both our families, insisting that we get married the "right way," with our families and friends there.
He was right. And so, we had a traditional wedding in our hometown in Maryland.  The next day, we flew three thousand miles across the country to our new home in California – a tiny, one bedroom apartment. Rob went back to work the next day.
And so began our happily ever after!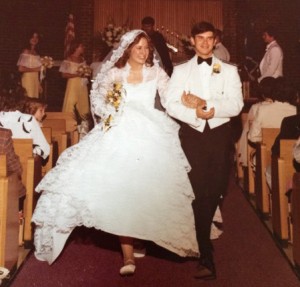 Today, one in four couples include travel in their weddings by having a destination wedding. The average destination wedding costs approximately $22,000 – you read that right! –and averages around 75 guests.
There are two basic choices when it comes to a destination wedding: Do you stay in the U.S. or do you go international? When I pitched my editors the idea for my destination wedding series, I gave them three options:
US. locations
International locations
A fictional U.S. town that was an up-and-coming wedding destination location
We settled on locations in the U.S. and opted for city, beach, mountain, and one yet-to-be-determined destination wedding locale. According to a 2013 study, when a bride and groom get married in the U.S., they pick a location that has special meaning to them. So far, that's been true for my imaginary characters.
Ye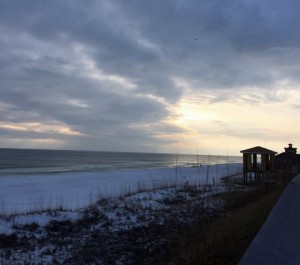 s, for the past couple of years, I've been all about destination weddings. I still haven't been to one – except in my imagination. In Crazy Little Thing Called Love, the location is a beach destination wedding. I knew immediately what beach I was going to choose. When my husband was in the military, our family lived in the Panhandle of Florida for eight years, just over the bridge from Destin, Florida. We saw up-close and personal why Destin (at right) is called the Emerald Coast. Where else would I want Vanessa and Logan, my imaginary bride and groom, to get married?
THE SCAVENGER HUNT SKINNY:
Thanks for stopping by on the hunt! Before you go, make sure you WRITE DOWN THESE CLUES:
Secret Word(s): don't
Secret Number: 77 – a number I chose, because because sevens look nice and sound nice!
Got 'em down?? Great! Your next stop is #15 Beth Vogt's site. Click on over there now. And if you get lost, a complete list of the loop with links can be found at our mother host's site.
And for anyone still reading, if you comment below to say hi you will be in the running for the complete trilogy of THE MEN OF LANCASTER COUNTY; 3 books that I co-wrote with Mindy Starns Clark, one of which is the newest of the three, The Amish Clockmaker – a CBA bestseller two months in a row! Enjoy the rest of the hunt!