It's always a thrilling day for me when I can reveal a new cover for a book that is headed your way in the months to come. I love the artistry of book covers and I am not the least bit ashamed to admit I put a lot of stock in a book's cover.
The old maxim that we shouldn't judge a book by its cover is really more a call to appraise someone's character by who she is on the inside (rather than her outward appearance) than it is advice about an actual book.  A person can't always help how she looks. But an artist is in full control of a book cover's look.  You can't just say of a book cover, "Well, that's just its DNA." A book cover is the first vis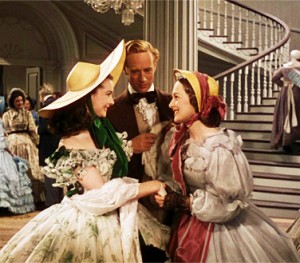 ual connection readers make with a book; and usually the only one that's handed to them. The rest of the visuals we come up with on our own as we read.  So I expect a lot out of covers!
This one delights me.
My first reaction when I saw this beautiful cover for STARS OVER SUNSET BOULEVARD, which is headed your way in January 2016, was that the color palette is perfect, and that the lettering – which will be in shimmery gold – is wonderfully apropos for the golden age of Hollywood; the time period of the majority of this book's storyline. This is a book about two studio secretaries who become friends while working on the set of most iconic film of all time, Gone With the Wind.  One of them longs to be wanted, and the other longs to be needed. They both go after their desires against the backdrop of the most memorable movie ever made, and at times their desires collide, as the desires of two flawed people often do.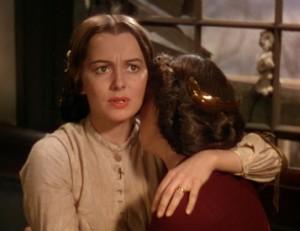 The amazing thing about true friends is it that theirs is a relationship that is chosen. Friends decide over and over again, as they grow and mature and seek out their life dreams, to remain close to each other. It's the easiest relationship to walk away from, but we decide, again and again, to love our closest friends, despite all that is happening around us and inside us, despite hurt feelings and cross purposes. This is a book about friendship in a time a change, just as Gone With the Wind is a story – among other things – about the friendship of Scarlett and Melanie in a time of change.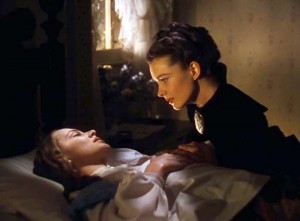 This book is about Violet – who wants to be needed – and Audrey – who wants to be wanted, and this stunning woman on the cover above could honestly be either one of them. And because her face is mostly hidden from us, which I like so very much, it is up to each reader to decide who the woman on the front is, which I also like.
There will be much more about this book in the weeks ahead – I am hard at work in revisions on it right now – but in the meantime I'd love to hear what you think about this cover! And what you know of the book so far…