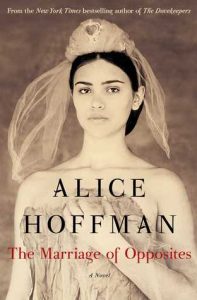 I've been away from the blog the last few weeks (my apologies) while working on revisions for a book that will come in 2018 — my first hardcover!  The good news is all this hard work will be worth it, I think. I already love this story so much more now than I did when I turned it in to my editor the first time.  The bad news is, I've let some other things go, like the care and feeding of the blog. Sorry. But I do have some book recommendations for you today that will hopefully make up for it.
A long while back I read Alice Hoffman's TURTLE MOON. It was the first novel I'd ever read told in the present tense and I remember loving it. Then life got busy and for whatever reason, I failed to read Alice's next offerings to the literary world. That was a huge mistake. I've since rediscovered this immensely gifted writer and now I know I missed out on a lot of good reads since Turtle Moon. Suffice it to say I have some catching up to do.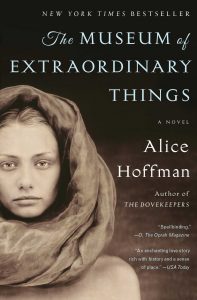 One of the great things about modern technology is the ability to have a book read to you while you drive. I don't have much of a work commute. (I walk from the upstairs to the downstairs) but I spend a surprisingly ample amount of time in my car anyway. Errands, visits to book clubs, shopping, weekend stuff, visits to the grandlad in Orange County. All of that time behind the wheel adds up. I checked out from my library Alice's THE MARRIAGE OF OPPOSITES for a drive up to Los Angeles back in December and loved loved loved it. The narration was exquisite and I actually found myself wanting to drive back to LA to keep listening to it.  When I finished with MARRIAGE, I next checked out THE MUSEUM OF EXTRAORDINARY THINGS and was again spellbound. Both books are so amazingly well written and full of rich layers of characterization. I highly recommend them both. And if you've never tried an audio book before, I'd say start with these. I plan to get on board with Audible sometime this year, although I do like patronizing my local library's audiobook shelves.
One more thing about Alice Hoffman's novels.   My meter for adult language and bedroom stuff probably leans toward a more moderately modest setting and I am happy to say Hoffman is careful here. She manages to write stunningly real and relevant prose without excess adult language and bedroom situations. You don't miss it if you're used to it, and you don't notice the absence of over-the-top profanity and etcerera until you read perhaps another book where highly adult language and etcetera seems to appear on every page. I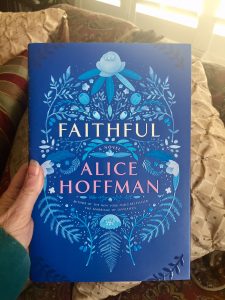 love that about her storytelling.
I recently had the opportunity to hear Alice Hoffman speak about her latest book, FAITHFUL, which is on my nightstand now, and I'm so ready to read it when I've got these edits done.
If you've been reading Alice, I'd love to hear your thoughts on her style and storytelling goddessness!
And I promise to better at feeding the blog in 2017!