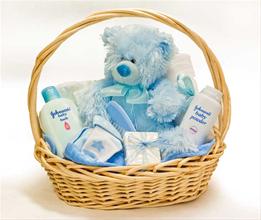 My nephew and his lovely wife became parents for the first time almost a week ago. Little Dylan Olivia is the first baby of the next generation in my immediate and local family; my son and his sweet wife will bring us the next one come summer.
It's always a treat to shop for a new little one, everything on the shelves and racks is so sweet and charming: Spend a few minutes in the baby aisle and you're soon thinking the world isn't such an awful place. It's actually filled with tiny reminders that life is a wonderfully renewing force and should be treasured.
At Christmas time when I am getting out my nativity scene or listening to carols that describe the gifts the Magi brought to Jesus, I am nearly always reminded of what strange presents they brought to welcome him to the world. And yes, I know it is highly likely Jesus was a toddler by the time they arrived since the gospel of Matthew describes the event like this:
And the star they had seen in the east guided them to Bethlehem. It went ahead of them and stopped over the place where the child was. When they saw the star, they were filled with joy! They entered the house and saw the child with his mother, Mary, and they bowed down and worshiped him. Then they opened their treasure chests and gave him gifts of gold, frankincense, and myrrh.
Jesus is called a child here, and the wise men from the East came to a house, not a stable. But all those details aside, they did bring very interesting gifts, none that I would call sweet and charming. They were strange gifts, and I admit when I was a little kid, I was flummoxed for a little while there regarding Frankenstein at the nativity.
Interestingly enough, the gospels don't explain the meaning of the gifts. Scholars say that those three items: gold (a precious metal), frankincense (a fragrant perfume), and myrrh (an anointing oil), were the standard gifts given to royalty in the ancient world. Apparently, King Seleucus II Callinicus offered these same three gifts to the god Apollo at the temple in Miletus, 243 years before Jesus was born.
I doubt the Magi knew then what we now know about the symbolic appropriateness of those gifts. Gold is symbolic of Christ's divinity—God in flesh. GotQuestions.org tells us frankincense is obtained from a tree by making incisions in the bark and allowing the resin to flow out, an allusion to Christ's holiness and sacrifice. And myrrh, a spice used in embalming, was also sometimes mingled with wine to form a numbing, pain-killing drink, the same beverage which Jesus was offered on the cross and that he declined.
These strange gifts weren't the usual baby gifts, but Jesus wasn't the usual baby, and I think this is what still amazes me about Christmas. Nothing about the way Christ came was typical or ordinary or expected. The circumstances surrounding his coming were radically different than anyone would have expected them to be. (Note to self: God sometimes does things very different than you would).
We've cloaked Christmas in such an array of lovely, comfortably nostalgic traditions that it's easy to forget how audacious the first Christmas was. Maybe we do need to see Frankenstein at the manger if only to force us into a double-take. This is no ordinary moment…
"He who carved the edges of the cosmos curved Himself into a fetal ball in the dark, tethered Himself to the uterine wall of a virgin, and lets His cells divide, light splitting all white. He gave up the heavens that were not even large enough to contain Him and lets Himself be held in a hand. The mystery so large becomes the Baby so small, and infinite God becomes infant." – Ann Voskamp.
Look again, friends… What do you see?