Okay, so I am not literally dying but I do sense a terrible longing to fling all responsibility aside today, buy these five books and and do nothing but sit outside with iced coffee and read them to my heart's content. And let's not even discuss the ToBeRead ladder to the moon that I've already got. I know how many books I have bought over the last few months (okay, years) that are waiting to be opened and read. Let's just concentrate on the moment, shall we? And at the moment, I REALLY want to read all these new books: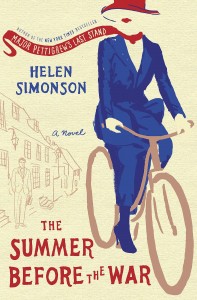 The Summer Before the War
I adore this cover, but putting eye candy aside, I've heard nothing but good things about this second book from Helen Simonson, who wrote Major Pettigrew's Last Stand. This one is set in 1914 – perfect for the time period I am researching right now – and centers around Beatrice Nash, who comes to a sleepy little coastal village in England to teach Latin. BookPage says its "full of wry humor and loveable characters."  The Washington Post says it's a novel to "cure your Downton Abbey withdrawal . . ."  Sign me up.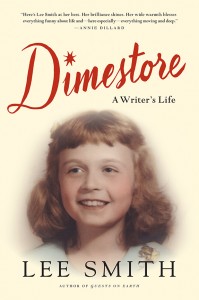 Dimestore
I love a good memoir that reads like a story (see The Glass Castle if you want to know what I mean by that) and Dimestore by Lee Smith looks like it's that kind of literary biography about the author's childhood in an Appalachian community she was "raised to leave." The back cover copy says: "Dimestore's fifteen essays are crushingly honest, wise and perceptive, and superbly entertaining. Smith has created both a moving personal portrait and a testament to embracing one's heritage. It's also an inspiring story of the birth of a writer and a poignant look at a way of life that has all but vanished." Want it yesterday.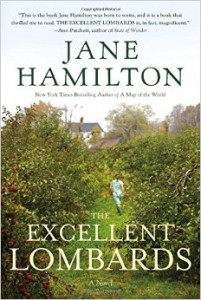 The Excellent Lombards
Ever since I read A Map of the World back when my kids were tots, I've been a fan of Jane Hamilton's storytelling.  I was so glad to hear she has a new book out and equally vexed (terribly vexed) that I don't know when I will get to it. This one is set on a Wisconsin apple orchard, narrated by Frankie Lombard, a girl who wants nothing to change, ever. But you and I both know that's not how life is. From the back cover:  "As Frankie is forced to shed her childhood fantasies and face the possibility of losing the idyllic future she had envisioned for her family, she must decide whether loving something means clinging tightly or letting go."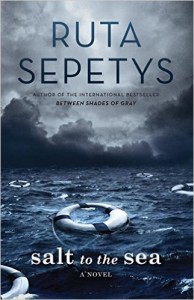 Salt to the Sea
My mom, who is an avid reader but a discriminating one, loved this book. And if she says it's wonderful, then it has to be so. This story is inspired by a nearly forgotten event in 1945 (my fave kind of book), the single greatest tragedy in maritime history, actually. From the back cover: "Winter, 1945. Four teenagers. Four secrets. Each one born of a different homeland; each one hunted, and haunted, by tragedy, lies…and war. As thousands of desperate refugees flock to the coast in the midst of a Soviet advance, four paths converge, vying for passage aboard the Wilhelm Gustloff, a ship that promises safety and freedom." You want to read it now, too, don't you?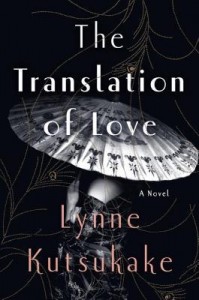 The Translation of Love
This book by debut author Lynn Kutsukake, was inspired by the "avalanche of letters" sent to Gen. Dougas MacArthur by the people of Japan. BookPage says: "At the heart of the story is Aya, a 13-year-old Japanese-Canadian girl who has been repatriated to Japan with her father. When the sister of her friend, Fumi, goes missing, English-speaking Aya is rapped to seek help from the famous general."  Kirkus Reviews said: "Kutsukake's moving debut novel focuses on the intertwining stories of several protagonists in post-World War II Tokyo…The result is a memorable story of hope and loneliness with a cathartic ending." And can we just all agree right here that the cover of this one is beautifully evocative?
So there you have it! If I didn't have a new book to promote, a book to edit for next year, and a new book to write for the year after that, plus the other nitnoid and also lovely details of life, you would find me under a tree with these five books in my lap. How about you? Any new books out there your soul is itching to read?