Welcome to the Writing Process blog tour! I've been handed the baton from my fellow novelist, screenplay writer and scrabble-across-the-miles pal Rene Gutteridge. You can read her answers to these same questions at her blog right here. Read to the end to see which gifted writers I have tagged so that you can keep traveling along the tour.
Who are you?
I'm Susan Meissner, a novelist with a hankering for history. I am also a wife to a great guy named Bob and we're the parents of four amazing young adults. When I am not thinking up trouble to put characters into, I write small group curriculum for my local church and I also volunteer at an amazing non-profit called Words Alive – a fabulous organization whose mission is to reach at-risk kids and give them opportunities for life success by inspiring a commitment to reading.
What are you working on?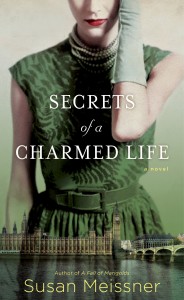 I am putting the finishing touches on my next release with Penguin/NAL. SECRETS OF A CHARMED LIFE is a novel set in England primarily during World War II. The story revolves around a fifteen-year-old aspiring dress designer and her little sister, their evacuation to the countryside, and then what happens when they sneak back to London on the very day the Blitz begins. It's a story about sister-love, mothers and daughters, regrets and war, devotion and forgiveness. The cover is absolutely stunning.
How does your work differ from others of your genre?
I like to weave a contemporary story with a historical. My novels are dual- and sometimes triple-time period stories. I like finding something that connects the different time periods together, whether it's s diary or a ring or a house or even just a common dream or desire.
Why do you write what you do?
I write what I like to read. Some of my favorite authors write with multiple time periods and/or multiple points of view. Kate Morton, Khaled Hosseini, Geraldine Brooks are three of my all-time faves, as well as Diane Setterfield's The Thirteenth Tale, Sarah Jio's Blackberry Winter, Sara Gruen's Water for Elephants, and Barbara Kingsolver's The Poisonwood Bible.
How does your writing process work?
I like to do my research up front and I also plot the story as much as I can before I write a word. I don't produce an ironclad outline, but I do like to have a 4 to 5 page synopsis of how I think the story is going to play out. Sometimes I will even write the last scene first. I don't always follow the storyline that I envision when I begin on page 1 – that's the loveliest part of the intuitive process of writing – but having a stated destination to head toward helps keep me writing every day and seriously reduces the number of walls I might run up against.
I usually write from nine in the morning until I have 2,000 words – when I am in writing mode. Sometimes I will hit that number by 1 p.m. and then I can do other writing-related things. Sometimes it's 5 or 6 p.m. before I get the word count in. I love those days when the words just flow like a happy river!
Each new day I read what I wrote the day before to get back into the scene and I make only slight corrections, but I don't get into the editing mode until the book is done. If I edited fully as I went along I would never get anywhere. It usually takes me three months to research a book and five to six months to write it.
You can stay on the Writing Process blog tour by heading over to the blog of my artistic and talented friend Leeana Tankersley author of BREATHING ROOM on MONDAY. (We writers need our weekends, too!) plus, one mystery guest. Check back on Monday for the reveal.
Have a lovely weekend!