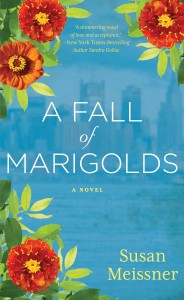 On Tuesday, my first book with Penguin NAL, A FALL OF MARIGOLDS, will be released out into the world — always a wonderful, terrifying day. I love the characters in this book and I almost feel badly for what I put them through. Almost.  I am anxious about its debut, of course, and since I aim to please, I really want you all to like it.  It's a dual time-periods story, like my last five have been, with the majority of the tale centering around a grieving nurse named Clara living at Ellis Island's hospital in 1911. Her story is paired with that of a 9/11 widow named Taryn one hundred years later. The two never meet, but a scarf patterned in marigolds will bring them together in a way that I hope you find compelling.
To celebrate the release of A FALL OF MARIGOLDS, on Monday a blog tour will begin and which will continue throughout the month of February. The book and me will be featured on more than 50 blogs, more than half of which will participate in a drawing for some really cool stuff!
One winner from among all those who post a comment on the blogs will win the grand prize, which includes a beautiful up-cycled infinity scarf (made from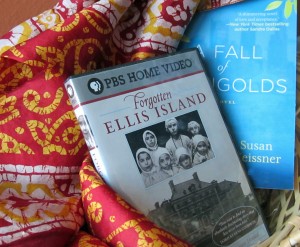 a real vintage Indian sari), a signed copy of A FALL OF MARIGOLDS, a DVD copy of the PBS documentary Forgotten Ellis Island, and a $100 Visa gift card.  In addition, one winner from each individual blogger's commenters will win a signed copy of the book. The grand prize winner from among all the participating blogs as well as the individual book winners will be chosen by random drawing. Comments must be posted by midnight Eastern on Feb 28. (The contest is limited to those residing in the United States.)
On Monday I will post the complete list of participating blogs so that you can begin the tour. Just hop over to the blogs each day and drop a comment in the comment section (just one comment per blog) and you're in the running. The content of the blog tour (the question and and answer part) will likely be the same from blog to blog, but the blogs themselves are all different, and hosted by gifted people whom I hope you will get to know and want to revisit in the future.  Plus you will want to check back with them to see if you are the individual winner of a signed copy of A FALL OF MARIGOLDS — there will be a winner of a book on every blog!
I am so looking forward to hearing from you in the weeks and months ahead. I love hearing back from you, even if you DON'T like a book I've written. It actually helps to hear why, for I very much want to make your reading time memorable. Hope to see you along for the ride this month!