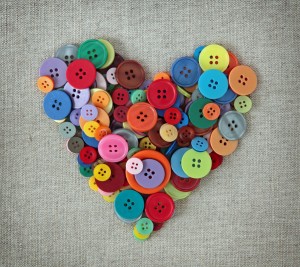 Sometimes I quietly ridicule all the national this or that days we have; it seems like there is just too much recognition going on for things whose usefulness pales in comparison to more deserving things! But I have to admit I kinda like it that today is National Button Day. Buttons are such quiet little friends who do their job so nicely — unless their threads get loose, of course. (I honestly think when I lose one, it's more than likely my fault for not addressing an errant thread when I had the chance.) Buttons are colorful and artistic and functional and personal.
My mom had a lovely collection of odds-and-ends buttons in her sewing stuff, and so did my grandmother. Just thinking about them now gives me all the nostalgic feels. I wish had my grandmother's button box. Or maybe it was a tin? Or a jar? I am a bit sad I can't remember which it is, which means it's been too long since she's been gone, and way too long since I've been a little kid who got to play with those buttons.
And if that's not sad enough, my own box of loose buttons is lost somewhere in the garage. I don't even know where to begin to look for it and I so very much wish I knew where it was. My grandson is too young for them now, but the day will come when he won't put everything in his mouth…
I am thinking the saving of buttons might be a lost art. Like, maybe the grandmothers of today (Gad, that would be me) aren't saving odd buttons in jars because we don't sew anymore. My little button tin got fed every time I sewed something that needed buttons and had extra ones when the project was complete. It's true that I don't sew anymore. Which is why I don't know where my button tin is. I haven't needed it.
How about you? Do you have a button jar? Better yet, do you have your grandmother's button jar?? Send me a pic and I will add it this post and love on your button jar since I don't have mine and am feeling bad about it…