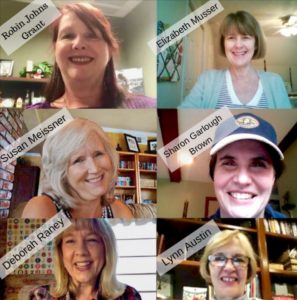 (This post is #6 in a series by six author friends who began an online prayer group together. To start at the beginning, head over to fellow author Lynn Austin's blog).
One of the nicest things about the digital age is the ability to seemingly erase the miles between you and the people you care about who do not live close to you. Through the wonder of today's technology, we can virtually gather with far-flung friends and family on various media platforms and and communicate in real-time regarding just about anything. I was invited in to the Transformational Fiction Prayer Group by Elizabeth Musser, whom I have known for years but who lives thousands of miles away from me. She and I have a lot in common including a love for God and our families, the itch to write compelling historical fiction and the knowledge that we need friends along the way in this journey called life: friends who understand us, who can advise us, who will pray for us, and who understand our "world" and whose outlook on life closely mirrors our own. These are the people that will see you through difficult times, celebrate with you during good times and hold you close during the worst of times. Starting your own online prayer group begins with wanting that kind of connection with a small group of friends, finding them, and then finding the mode and means that can best make it happen.
Finding the friends
Our group has six members, which seems just about right. Not too big, not too small. We have enough in common to be able to understand the struggles each of us face and we agree on the most fundamental distinctives of our faith. The number in your group isn't as important as the fit, but keep in mind the bigger the group the less people might be willing to share or will even be able to share. The time goes by fast when you're connecting with each other in real time. Here are some good questions to ask yourself as you ponder who will be a good fit: Is this person someone I can trust with my most personal thoughts and concerns? Have I known this person long enough to know them well? Does person do well in situations where everyone is afforded an equal chance to speak? Does this person's faith perspectives coincide with my own?
Finding the "meeting room"
We meet on Skype on a group call once a month, but you can also use Google Hangouts or other online "meeting rooms." The platform Marco Polo has a group setting, but the connections aren't exactly in real time; your members will be able to watch the videos in real time, but the responses are then recorded and played back. You can also opt for a private Facebook group, which you can then post to as often as want, and then perhaps designate a time and day when you will all be on at the same time.  The nice thing about the Skype call, though, is we can see each other and the calls aren't recorded. When we hang up, the call is gone. There is a certain amount of safety there. We do maintain a prayer log on a Google doc that we all have access to but that is the only bit of info that anyone writes down.
When to meet
Once a month, usually the first Thursday, works for us. We are spread out over a large geographic area. I take the Skype call at noon on the West Coast and Elizabeth, for example, takes it at 9PM in Europe. We found a time that works for the six of us about ninety percent of the time. Sometimes we move the meeting time if too many of us are traveling or otherwise engaged. So many people lead such busy lives; this may well be the hardest detail for your new group to nail down. But it's been said that we always make time to do the things we really want to do. If the people you've gotten confirmation from really want this, you will find a time to make it happen.
Who will lead?
Every group that wants to accomplish something needs a leader. If you want to start a group like this but don't want to lead, find someone with leadership skills who does. A herd of any size without a leader wanders aimlessly and never gets to where they want to be. You can all decide what each gathering will look like, but the leader should then execute the plan you all agree to. In our group, which Elizabeth leads, we meet for an hour. We share our lives and hearts with each other and then often one of us shares a meditative thought from the Bible, and then we pray for each other, right there on the Skype call, each praying for one of the others. (Here is another reason to have a leader; for facilitating this closing prayer time). Sometimes the hour flies by and we agree to pray after we hang up. Keep in mind, the person leading doesn't have to be the one making all the decisions. They just ensure the decided things take place.
The world can be a challenging place. Sometimes you just want to share your heart with a few people who totally get you but who aren't right there in the middle of your day-to-day life. They sometimes can see what you can't see. Distance gives them perspective, and wonders like Skype allow us to hear what it is in unbelievably convenient ways.
Has the digital age impacted you in positive ways with regard to maintaining relationships? Tell me in the comments!
To enter the giveaway for a signed paperback of AS BRIGHT AS HEAVEN, sign up for my newsletter! https://docs.google.com/forms/d/1OnIZNfVRdEwtw9fyOnh_f35IV-q7mvOj9kC9xTZmLho/edit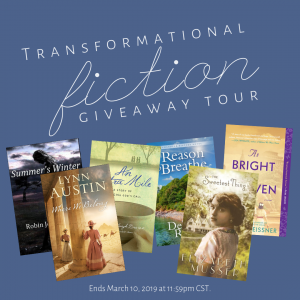 If you have already signed up for my newsletter, don't worry! You won't be signed up twice. To qualify for the drawing, though, I'll still need record of your entry through the link above. Thanks!
To enter the grand prize (all six novels) enter each giveaway of the Transformational Fiction Giveaway Tour. Begin at Lynn's blog which I linked above.
Giveaway Disclaimer: Ends Sunday, March 10, 2019 at 11:59pm CST. All Transformational Fiction Giveaway winners will be announced Monday, March 11, 2019, and will have 48 hours to claim their prize or thereby forfeit to the runner up. Participants must enter all 6 giveaways to be considered for the grand prize drawing. Limited to US residents only. Must be 18 or older to enter.