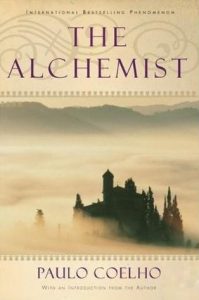 A few years back, the book everyone was talking about was THE ALCHEMIST by Paulo Coelho. I saw the book everywhere; online, in bookstores, in peoples' hands, and everyone was saying what a fantastic book it was. It was recommended to me by several people, and I was both loaned a copy (that I – gasp – still have) and gifted a copy, but for whatever reason I never got around to reading it. I always believed that someday I would, but meanwhile my reading life went on, and very busily so, with many other books.
So when one of the gals in my book club chose it for this month's read I was actually pretty jazzed. I would no longer be able to put off reading it because I didn't want to be a flunkatoid – that's the title we give ourselves in my club when we fail to read the book that's been chosen. And I had two copies to read already!  I only had to find one of them.
Perhaps the reason I'd previously put off reading it was that I had heard it was allegorical, and a bit mystical, and about a shepherd boy (who, by the way, is not really a boy at all actually, but a man.) I had heard that it was enlightening, inspiring and philosophical. I like all those things, but I usually read fiction for pleasure and nonfiction for research, and allegory for nothing. But I was ready at last to read the book everybody had been talking about and that has sold millions upon millions of copies.
Here's the thing with a book that all the world loves; your expectations of it are extremely high. Stunningly high, at least for me. I was ready to be wowed, undone, amazed. And while I enjoyed it, I finished the book a bit underwhelmed and kind of sad. I wish now I had heard nothing about it. And I also think I should've kept looking for the new copy that I have somewhere here in this house and hadn't settled for the friend's copy which had been underlined already. I would see those underlines coming up and I would feel like I was stumbling upon someone else's discovery. I wanted to have my own discoveries, and when you read a borrowed book with underlines already inside, you don't get them. And I do believe this is the kind of book where you need to have them.
I came across this blog post on the author's website (penned by a Huffington Post writer) as I was pondering why I didn't adore the book, and I actually love what this person said about why THE ALCHEMIST resonated with so many millions of people. It offered people a blueprint for how to live a meaningful life. This writer came up with the book's ten most powerful passages and what they teach us, and of those ten, there are six that I see now did in fact resonate with me:
Fear is a bigger obstacle than the obstacle itself
What is "true" will always endure
Embrace the present.
Make the decision
Keep getting back up
Focus on your own journey
Yes, yes, yes, I am a fan of all six of these pearls of wisdom. But in the reading I've discovered I don't want to dive for pearls of wisdom by way of allegory. I did when I was a kid, but I don't now.
I am fully of the persuasion that there are life lessons to be learned, but not all life lessons are learned the same way. My preferred learning style (I know this now) is to hear a lecture or read an essay rather than read a work of allegorical fiction. And I absolutely need to make my own highlights.
In my search to figure out why I didn't adore the book everybody adored (I LIKED it friends. I did), I came across the article and was astounded that this book was written in only two weeks. You might also want to know that it was not a success until it was translated into English, and that it spent 300 weeks on the NY Times bestseller list. Click to read the rest of the article.
What this book's phenomenal success tells me more than anything is that people are hungry to know their purpose in life. I find that wonderfully refreshing because it quietly speaks that at our core, we know we are more than former primordial ooze. We were made in the image of God, we absolutely do have a purpose, and our souls are restless until we discover it. I am glad this book encouraged so many to discover for themselves what it is.
And now, of course, I would love to hear your thoughts!