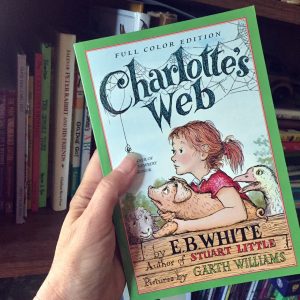 If you watched PBS's series on the Great American Read, you already know that the Number 1 best book of 100 favorites voted in by book lovers like us everywhere was TO KILL A MOCKINGBIRD by Harper Lee.  PBS aired the series over a period of weeks after votes were sent in and tallied and then revealed week by week. The entire list of our favorites is included in the link above if you care to see the line-up of the most beloved books in our lifetime. (I confess I feel very good about myself for having already read a great many of them).
It's so very hard to pick one novel out of all that I've ever read to crown as the BEST BOOK EVER!  I remember when I voted earlier this summer I agonized over which novel I loved best, remembered best, felt influenced by the most, would recommend in a heartbeat. I think I chose CHARLOTTE'S WEB by E.B. White because fifty years after reading this book, I still feel such affection for it and everything it tells the world about friendship and courage and hope. And yet, when TO KILL A MOCKINGBIRD was crowned the winner I didn't feel sad. It is also and will probably always be a book for the times, no matter what time in which its reader is living.
Books like CHARLOTTE'S WEB and TO KILL A MOCKINGBIRD are timeless because they aren't truly about a pig and a spider figuring out life in a barnyard or an impressionable young girl and her attorney father figuring out life in pre-Civil Rights movement Alabama. They are books about US trying to figure out life, and not just figuring it out, but making it beautiful and safe and meaningful for everyone. They teach us, still, what it means to love your neighbor – the oldest and best precept for living there is – and what it looks like when you don't.
I would love to hear what you think about the list of 100 books, and its crowning winner. Was your favorite in the top ten or 20? Tell me…